Benzinga's Weekend M&A Chatter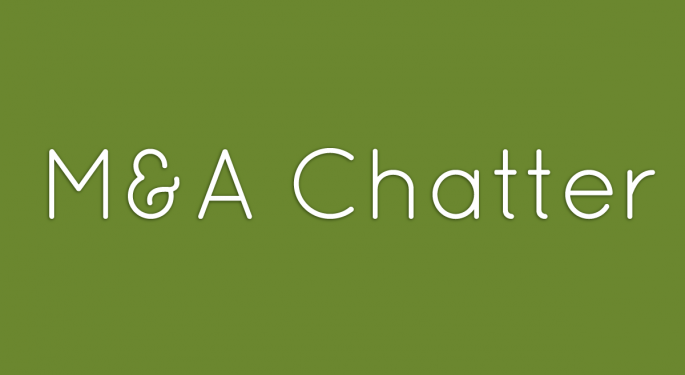 The following are the M&A deals, rumors and chatter circulating on Wall Street for Friday May 8 thought Sunday May 10, 2015:
Alibaba Acquires 9%+ Stake in Zulily for ~$56M
The Stake:
Alibaba Group Holding Ltd. (NYSE: BABA) has taken a stake of more than 9% Zulily Inc. (NASDAQ: ZU), according to a Form 4 filing on Friday. The Wall Street Journal reported on Saturday that Alibaba was not looking to acquire Zulily, according to a source.
Zulily shares rose more than 12% Friday, closing at $13.30. Shares hit a low of $9.09 on Wednesday.
Tesla Confirms Acquisition of Riviera Tool
The Deal:
Tesla confirmed Friday, in an email to Benzinga, that they had acquired Riviera Tool in Grand Rapids, MI. The company stated in an email "We are excited to have reached a deal with Riviera and have a presence in the state of Michigan. This acquisition will help us bring additional tool building capabilities in-house and build new stamping and plastic parts in a cost effective manner, support new metal forming technology development, and allow us to increase production as we introduce more models."
Tesla confirms the company they acquired is privately-held. There had been confusion Thursday over an OTC issue, Riviera Tool Co (OTC: RIVT), whose shares rose as much as 11,000%, following a report in the Detroit Free Press. Assets of Riviera Tool Co were transferred to a new company, Riviera Tool LLC in 2007 and shares of Riviera Tool Co were delisted. Trading was halted by FINRA on Friday.
Tesla shares lost $0.19 Friday, closing at $236.61.
Report Teva Seeking $25B in Financing for New Mylan Offer
The Rumor:
Teva Pharmaceutical Industries Ltd. (NASDAQ: TEVA) is in talks to raise approximately $25 billion to finance its bid for Mylan NV (NYSE: MYL), according to sources, as reported by Bloomberg on Friday.
Teva, which made a bid of $82 per share in cash and stock for Mylan on April 21. That offer was rejected by Mylan's Board on April 27. The sources said the $25 billion in financing would give Teva the ability to raise its offer for Mylan.
Teva shares rose $0.54 Friday to close at $60.58, while Mylan shares rose $0.92 to close at $71.31.
Visa in Talks to Acquire Visa Europe for Up to $20B
The Rumor:
Visa Inc. (NYSE: V) is in talks to acquire Visa Europe for as much as $20 billion, according to sources, as reported by Bloomberg on Friday. The two companies separated in 2007, ahead of Visa's U.S. IPO.
Visa declined comment.
Visa shares rose more than 4% Friday, to close at $69.47.
View Comments and Join the Discussion!