Americans' Taste In Alcohol Is Getting More Expensive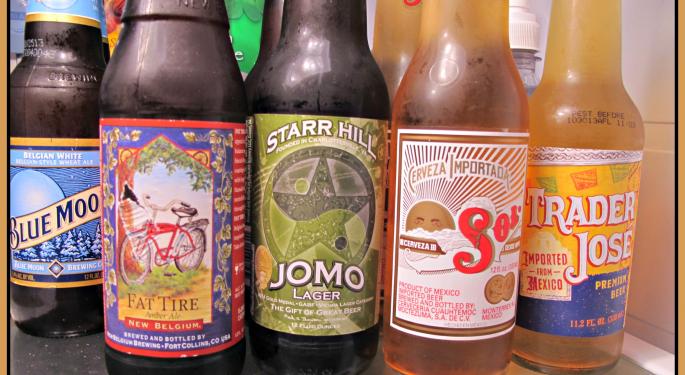 When it comes to alcoholic beverages, consumers are opting for quality over quantity. Although Americans are going out less, recent data from GuestMetrics, a firm which surveys over 6,000 bars and restaurants, shows that consumers are spending more on high-priced beer, wine and spirits.
Craft Beer Catching On
A recent trend in consumer spending is increased purchasing of craft beer. Craft beer sales now account for 31 percent of beer sales at bars and restaurants. Typically, a craft beer at the bar costs about $6, as opposed to a price of about $4.25 for domestic mainstream beers produced by companies such as Anheuser Busch InBev SA (ADR) (NYSE: BUD) and Molson Coors Brewing Company (NYSE: TAP).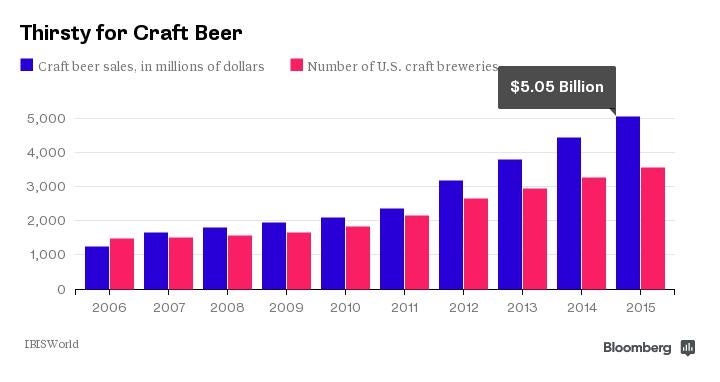 Increased demand for craft beer has pushed many small craft breweries to operate near full capacity. If passed, a new bill lowering excise taxes on beer could help craft brewers in expanding their production. A competing bill favoring large beer producers' interests has been put before Congress as well.
Fine Wine And Spirits Trending
High-end wine, like craft beer, has experienced a recent boost in popularity – and market share, with both beverage sectors' share increasing 6.5 percent over the past year. Of wine sold, 48 percent now costs more than $10 per glass.
Additionally, spirit drinks costing more than $12 each, while still only constituting 3.0 percent of spirits sold, have seen a 15 percent increase in market share since 2013.
Luxury Drinking Beyond The Bar
Americans' growing preference for fancy beverages extends to their grocery store purchases as well. At the store, consumers are spending about 5.0 to 7.0 percent more for higher quality beverages than they were paying in 2013.
Image credit: Bill McChesney, Flickr
Posted-In: craft beer GuestMetrics wineRestaurants Top Stories General Best of Benzinga
View Comments and Join the Discussion!