Benzinga's M&A Chatter for Thursday May 7, 2015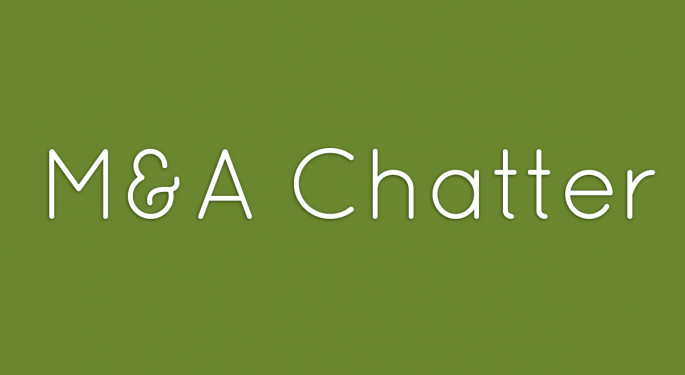 The following are the M&A deals, rumors and chatter circulating on Wall Street for Thursday May 7, 2015:
Wal-Mart's Walton Family Increasing Stake in First Solar Ahead of Potential Buyout
The Rumor:
Shares of First Solar, Inc. (NASDAQ: FSLR) rose Thursday, on unconfirmed market chatter that Wal-Mart's (NYSE: WMT) Walton family was going to raise their stake in the solar company, leading possibly to a full takeover. The Waltons currently own about 30% of First Solar. Sources say the purchase price could be as high as $75.00 per share.
A spokesperson for Wal-Mart, said the company does not respond to speculation or comment on behalf of the Walton family. First Solar did not respond to a request for comment.
First Solar shares rose 1% Thursday, closing at $56.32.
Tesla Reportedly Acquires Grand Rapids, MI Auto Supplier Riviera Tool
The Rumor:
Shares of Riviera Tool (OTC: RIVT) rose as much as 11,000% Thursday, following a report in the Detroit Free Press that the company has been acquired by Tesla Motors (NASDAQ: TSLA). The report said the company's 100 workers will remain with the company, which is said to be renamed Tesla Tool & Die.
Calls to the company were referred to Tesla's press department. Tesla did not respond.
Riviera Tool shares gained 4400% Thursday, closing at $0.22.
Yelp Exploring Sale
The Rumor:
Shareds of Yelp (NYSE: YELP) soared higher Thursday, on a report from Dow Jones that the company is exploring a potential sale, according to sources. The sources said that a deal is not imminent. A later report said Yelp was working with Goldman Sachs to find a buyer.
Yelp has been the subject of frequent takeover chatter. Google (NASDAQ: GOOGL) has been mentioned in the past as a possible acquirer. Yelp was not immediately available for comment.
Yelp shares rose more than 23% Thursday to close at $47.01.
Microchip Technology to Acquire Micrel for $14.00/Share
The Deal:
Microchip Technology Incorporated (NASDAQ: MCHP) and Micrel, Incorporated (NASDAQ: MCRL) announced Thursday, that Microchipwill acquire Micrel for $14.00 per share, for a total equity value of about $839 million. Micrel shareholders may elect to receive the purchase price in either cash or shares of Microchip common stock.
The deal is expected to close early in Q3 of 2015.
Micrel shares closed at 13.50 Thursday and traded over $14.00 after-hours.
View Comments and Join the Discussion!