Macerich, Sears Reach Mall Real Estate Deal; What's It Mean?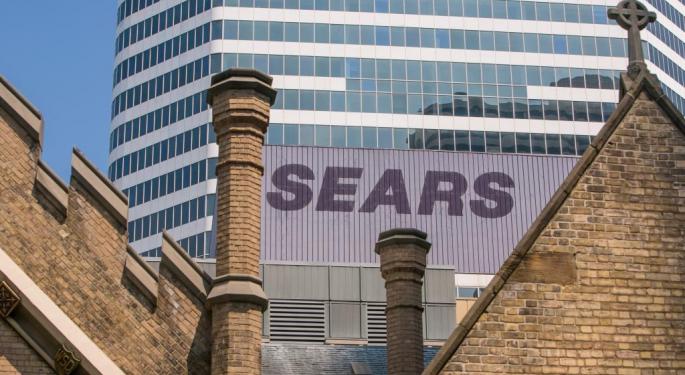 The adage "if ain't broke don't fix it," eerily applies and doesn't apply to the latest announcement to come out of Hoffman Estates, Ill.
After the close of trading on April 30, Sears Holdings Corp (NASDAQ: SHLD) and high-end regional mall REIT Macerich Co (NYSE: MAC) announced a $300 million real estate joint venture (JV).
On one hand, Macerich and Sears have announced a deal that essentially follows the blueprint of two prior joint announcements with leading mall landlords General Growth Properties (NYSE: GGP) and Simon Property Group (NYSE: SPG).
Related Link: Sears And Seritage Growth REIT: What Investors Need To Know
On the other hand, Sears Holdings CEO and largest shareholder Eddie Lampert is disappointed in the retail performance of the legacy department store retailer -- well documented declines in same store sales and a notable string of consecutive quarterly losses.
The Shop Your Way member loyalty program, omnichannel retail, and recent real estate initiatives are his attempts to fix something that seems horribly broken.
Tale Of The Tape - YTD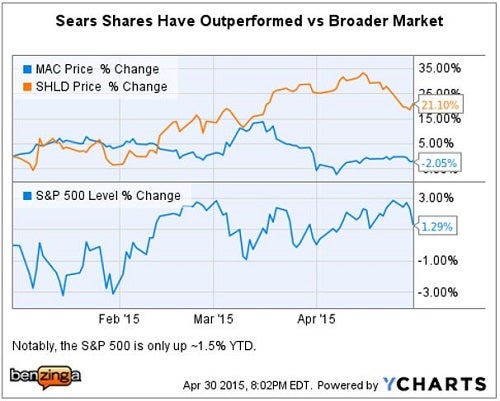 Shares of Macerich spiked up in March, and then declined as a result of the board of trustees rejecting a sweetened 50/50 cash and stock offer by Simon to purchase MAC shares for $95.50 per share.
At the close of trading on April 30, Macerich shares ended the day at $81.76, basically unchanged, while Sears traded up 2.17 percent to close at $39.94 per share.
Macerich shares are trading ~16.8 percent below the final price offered by Simon.
Macerich

/Sears JV - Deeper Dive

In return for a $150 million cash payment from Macerich, Sears Holdings contributed nine stores located in Macerich malls to a 50/50 joint venture.

"The JV will lease back existing stores to Sears Holdings under a triple-net master lease agreement (the "Master Lease"), with a ten year initial term and two five-year renewal options. Sears Holdings' initial base rent under the Master Lease will be approximately $14.8 million," a press release said.

The lease arrangements between Sears Holdings and the JV provide the JV with the ability to create additional value through recapturing certain space leased to Sears Holdings in the contributed properties and re-leasing that space to third-party tenants.

Notably, the nine properties being contributed to the JV are located at centers "with average in-line sales of $680 per square foot," and include: Washington Square, Los Cerritos Center, Arrowhead Towne Center, Vintage Faire Mall, Danbury Fair Mall, Chandler Fashion Center, Freehold Raceway, Deptford Mall and South Plains Mall.

Arthur Coppola, Chairman and CEO of Macerich, stated, "This new joint venture with Sears Holdings is in line with our overall strategy of reinvesting capital into our portfolio of proven, highly profitable locations."
Bottom Line
Sears continues to perform the alchemy of converting real estate to cash to pay the bills. There is no free lunch for Sears; in addition to its existing debt obligations and lease commitments, there is now an additional $14.8 million per year that Sears will be required to pay out.
Following the pattern that it had already established with the earlier two deals, Sears Holdings will be contributing its 50 percent JV interest to its Seritage REIT announced on April 1.
Initially the REIT will be comprised of 254 owned and leased Kmart and Sears store locations, and as well as the JV interest in its deals with Simon, General Growth and now Macerich.
Investor Takeaway
The result will be an OpCo/PropCo arrangement, governed by the terms of the leases between Sears and the Seritage REIT to be spun-out to shareholders in a rights offering.
In several ways, it will be similar to the recent Windstream Holdings (OpCo) tax-free spin-out of its new CS&L REIT (PropCo) to shareholders, detailed here.
Posted-In: CS&L REIT Eddie LampertNews REIT Retail Sales Asset Sales General Real Estate Best of Benzinga
View Comments and Join the Discussion!