Benzinga's M&A Chatter for Wednesday April 29, 2015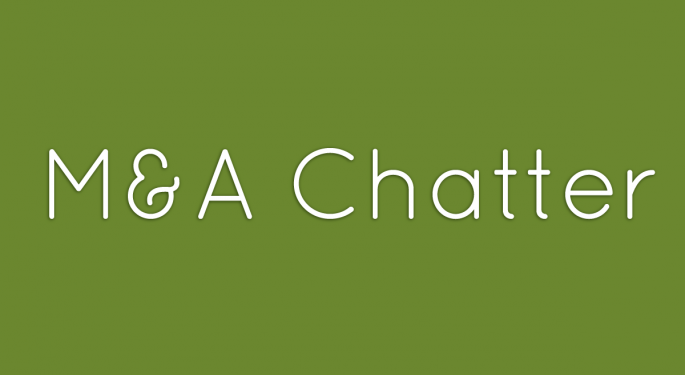 The following are the M&A deals, rumors and chatter circulating on Wall Street for Wednesday April 29, 2015:
Salesforce Said to be Approached By Potential Acquirer
The Rumor:
Salesforce.com Inc. (NYSE: CRM) is reportedly working with advisers to assisting handling takeover bids, according to Bloomberg. Sources says Salesforce was approached by a potential acquirer.
Traders discussing the report, mentioned Oracle (NYSE: ORCL) as the most likely suitor for Salesforce. Such a deal would be the largest ever of a software company.
A Salesforce spokesperson declined comment.
Salesforce shares rose 11% Wednesday, closing at $74.46.
Mylan Raises Offer for Perrigo to $75/Share in Cash, 2.3 Shares
The Revised Offer:
Mylan N.V. (NYSE: MYL) announced Wednesday, that it has increased its offer to acquire the issued and to be issued shares of Perrigo (NYSE: PRGO) to $75 in cash and 2.3 Mylan ordinary shares for each Perrigo ordinary share. The value of the nre offer is $232.33 per share based on the closing share price of $68.36 on April 8, 2015.
Almost immediately it was clear that traders expected Perrigo to reject Mylan's offer and that rejection was officially announced later in the day. Perrigo's Board stated that based on Mylan's $55.31 share price, which was prior to speculation of an offer, today's revised offer is just $202.20 per Perrigo share.
Mylan shares rose 2.5% Wednesday, closing at $74.50. Perrigo shares lost $1.65 to close at $184.74.
Amdocs to Acquire Comverse BSS Assets for $272M in Cash
The Deal:
Amdocs (NASDAQ: DOX) announced Wednesday, it has agreed to acquire a substantial majority of Comverse's business support systems business unit assets for approximately $272 million in cash. The deal is expected to close before end of September 2015.
Amdocs shares rose $0.14 Wednesday, closing at $55.57.
Omnivision Technologies Said to be Near Sale to Hua Capital for $29/Share
The Rumor:
Shares of Omnivision Technologies spiked higher after-hours Wednesday, on a report from Bloomberg, that Beijing-based private equity firm Hua Capital Management will pay about $29 a share for Omnivision, which has produced camera sensors for Apple's (NASDAQ: AAPL) iPhone. Sources say a deal could be announced as early as Thursday.
A potential deal between the two companies was first reported last September.
An OmniVision spokesperson declined comment, while a representative of Hua Capital could not be reached.
Omnivision Technologies closed at $26.55 Wednesday, and traded at $28.00 after-hours.
Posted-In: News Rumors Asset Sales Management M&A Movers
View Comments and Join the Discussion!