Hulu Grabs Exclusives to 'Seinfeld,' 'Walking Dead' Spinoff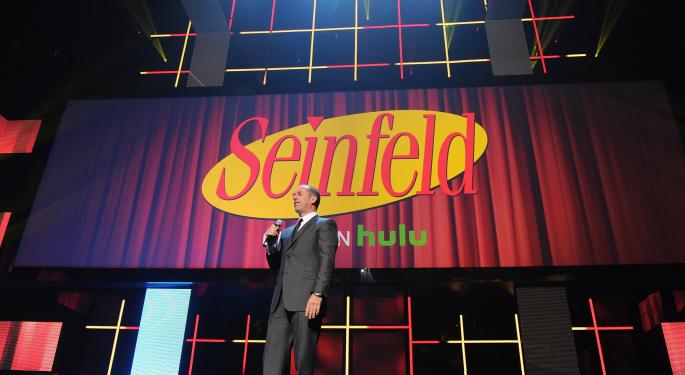 Nostalgia kicked in full force when Netflix, Inc. (NASDAQ: NFLX) announced back in late 2014 that users could begin binge-watching all 10 seasons of "Friends" as of January 1.
The good news for fans of 1990s era comedy is that "Seinfeld" will finally be available for streaming. However, doing so will require a Hulu membership as the company has acquired the rights with Sony Pictures TV for all 180 episodes.
Variety reported Hulu has acquired the "Seinfeld" rights at a price tag of just under $1 million an episode, or nearly $180 million in total. The proceeds will be split among Sony TV, Time Warner Inc (NYSE: TWX)'s Castle Rock and Seinfeld profit participants, including Jerry Seinfeld and Larry David.
The question Netflix shareholders may be asking now is Netflix's loss is Hulu's gain?
Daily Dot has an interesting take that Netflix made the right move in passing on the "Seinfeld" rights.
"Seinfeld was famously 'a show about nothing'," the publication noted. "With few exceptions, you could watch all 180 episodes on shuffle and it likely wouldn't matter."
This may contrast Netflix's strategy of presenting compelling material in which the viewer has "reason to worry and fear or even be intrigued" by the characters. As an example, "Unbreakable Kimmy Schmidt," Netflix's recent sitcom "relies on true human growth among its characters." Meanwhile, Seinfeld "just sort of stands there for nine seasons being itself, giving you no particular reason to move on to the next episode."
Hulu Also Nabs Walking Dead Spinoff
Fans of AMC Networks Inc (NASDAQ: AMCX) "Walking Dead" are able to binge-watch the zombie-thriller on Netflix, but will require a Hulu membership to binge-watch the yet to be created Walking Dead spinoff titled "Fear The Walking Dead."
Variety also reported Hulu has secured an exclusive output deal with AMC Networks that will include all episodes of the upcoming series. The publication suggested that the spin-off series could be a "slam dunk" for Hulu and AMC based on the success of the "Breaking Bad" spinoff "Better Call Saul."
View Comments and Join the Discussion!
Posted-In: Castle Rock Friends Hulu Seinfeld The Walking DeadNews Tech Best of Benzinga