IntraLinks' Matt Porzio On Latest Deal Flow Predictor And Sentiment Survey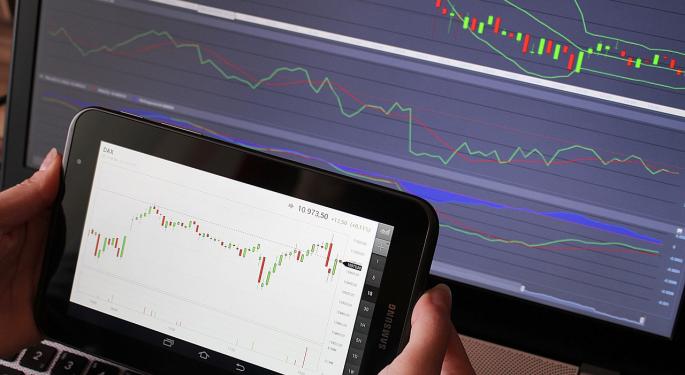 IntraLinks Holding Inc. (NYSE: IL) just released its latest Deal Flow Predictor (DFP) – an independently verified, accurate indicator of upcoming mergers and acquisitions (M&A) activity.
Benzinga spoke with Matt Porzio, IntraLinks vice president for strategy and product marketing, about the latest DFP findings, as well as results of the most recent global sentiment survey of M&A professionals.
Related Link: IntraLinks Deal Flow Indicator Predicts Significant Increase In 2014 M&A Volume
BZ: What's the big take away from the latest Deal Flow Predictor?
MP: That the market is still operating on a global basis, with the exception of LATAM, at a high level of activity. People feel there's not much further it can climb right now.
We are expecting slight growth in announced deals through the first nine months of 2015, but no one should expect 15 percent announced deal growth year-over-year again.
BZ: How might the collapse of the Comcast/Time Warner merger affect the potential for other similar mergers?
MP: We predict deals that happen out there on the margins, which shy away from those mega deals (like Comcast/Time Warner). I think that's a better health check of where TMT M&A is.
Deals like Comcast/Time Warner have a whole set of issues and challenges that are unique to that upper echelon of the market that most of the other deals and dealmakers are not going to face right now.
That said, certainly the mega deals and high value deals drive people to the market. The activity we're seeing is strong.
BZ: What sectors do you expect to be most active through 2015 Q3 with regard to M&A?
MP: There is regional variation. When we talk about active sectors, some of this is driven by the growth we've seen in North America and Europe.
One of the challenges we have is that of taking an almost 3D look at sector, region and timing of that growth. This has been a trend of the mid-market for some time.
The TMT space has been ripe for consolidation for some time. When you are talking valuations of five times revenue, that brings many people out to the market.
On the manufacturing/industrial side, many family-owned companies throughout North America and even in Latin America have grown significantly, have always been a target of some of the larger competition but are only now recently ready to test the market.
Public company deals are a little stickier and don't seem to be driving those numbers. It's more the private company stuff.
BZ: Why is it so difficult to break data down more specifically than just a general sector, i.e. a consumer?
MP: It's not like we're not trying. One of the challenges for us is that our deal flow comes from investment banks, and they are not necessarily that granular.
Sometimes we don't know the underlying target asset. We just know that it is a deal that involves a consumer group.
BZ: What's most striking about the global sentiment survey?
MP: Cautious optimism. Everybody is consistent quarter on quarter in that expectation of more deals.
We actually had a lot more international participation in the sentiment survey this time. Asia Pacific expects continued growth and more deals.
Overall, the sentiment survey remains positive. I think it's just shifting from significant optimism in North America, which is balancing out, to an increase in optimism globally.
BZ: How does regional confidence compare with the predictors for Q3? Any discrepancies or mismatches?
MP: In LATAM right now, confidence has been low and shaken based on deal flow. I think what happens is the disconnect of people not being able to close deals that have been in market for a while resulting in a 42 percent confidence level for LATAM.
Confidence tends to lag behind some of the deals coming to market. That seems to be something of a slight disconnect although it will be interesting to see if that number does increase in next quarter's survey.
BZ: So confidence and optimism are not necessarily the same thing?
MP: Right. In fact, I was on a panel in Mexico City a month ago. By the time the panel was done people had gone from pessimistic to optimistic, based on what we were talking about.
I think there's a chance that the market there – because it can move faster than a more mature market – could turn and show some positivity before the end of the year.
Related Link: Jefferies: 10 Buyout Targets To Own During The M&A Boom
BZ: What about the panel discussion changed attitudes?
MP: During the panel, everybody was talking about how tough it is in the current deal environment, how advisors need to step up their game and companies need to be more willing to negotiate and do deals with private and family-owned businesses.
Using our Dealnexus platform, I said there were 200 buy-side firms globally that had indicated in their current profiles and their deal mandates that they wanted to buy into Mexico.
The sheer fact some of these panelists and the audience heard that started people thinking, 'Maybe we need to push the owners of these businesses to not just look at a U.S. buyer but look more globally.'
At the time of this writing, Jim Probasco had no position in any mentioned securities.

Image Credit: Public Domain
View Comments and Join the Discussion!
Posted-In: Comcast Dealnexus LATAM Matt Porzio Time WarnerExclusives Tech Interview Best of Benzinga