Benzinga's M&A Chatter for Monday April 27, 2015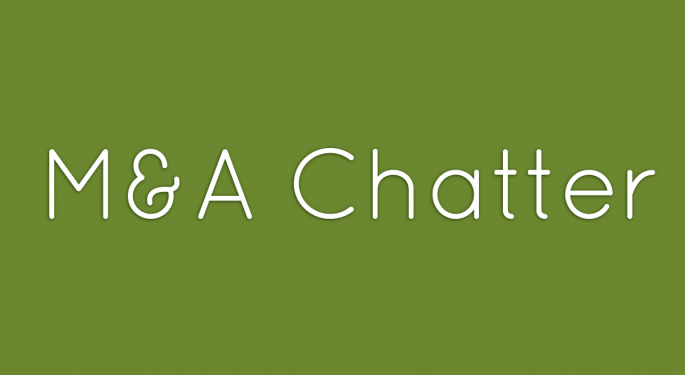 The following are the M&A deals, rumors and chatter circulating on Wall Street for Monday April 27, 2015:
Swedish Orphan Biovitrum AB Confirms Receipt of Preliminary and Conditional Non-binding Proposal for Acquisition of All Shares Issued by Company
The Proposal:
Swedish Orphan Biovitrum AB (OTC: SWTUY) confirmed Monday, that it has received a preliminary and conditional non-binding proposal in relation to a possible offer for all shares issued by the company. The company issued statemetn in repsonse to media reports.
Bloomberg reported on Saturday that Pfizer and Biogen are among the companies being mentioned as possible buyers. Goldman Sachs was reportedly hired to assist in the sale process.
Teva Reiterates $82.00 Cash, Stock Bid for Mylan
The Offer:
Teva Pharmaceutical Industries Ltd. (NYSE: TEVA) reiterated Monday, its commitment to its proposed combination with Mylan N.V. (NYSE: MYL) for $82.00 per share, comprised of approximately 50% cash and 50% stock. Mylan had officially rejected the offer on Monday.
Teva President and CEO, Erez Vigodman, said "While we are disappointed that Mylan has formally rejected our proposal, the Teva Board and management team are fully committed to completing the combination of Teva and Mylan, and we stand ready to quickly complete a transaction that is compelling for both Teva and Mylan stockholders". Bloomberg reported Monday, thatTeva's bid for Mylan could go 'hostile'.
Mylan shares fell 5.71% Monday, closing at $71.72.
MasterCard Acquires Applied Predictive Technologies for $600M
The Deal:
MasterCard announced Monday, that it has entered into an agreement to acquire cloud-based analytics provider, Applied Predictive Technologies, for $600 million.
MasterCard shares fell 1% Monday, closing at $89.75.
Applied Materials, Tokyo Electron Limited Agree to Terminate Business Combination Agreement
The Termination:
Applied Materials, Inc. (NASDAQ: AMAT) and Tokyo Electron Limited (OTC: TKECY) announced Monday, that they have agreed to terminate their Business Combination Agreement. No termination fees will be payable by either party.
Applied Materials shares fell more than 8% Monday, closing at $19.97.
Perfect World Enters into Definitive Agreement for Going Private Transaction for $20.20/ADS in Cash
The Deal:
Perfect World Co., Ltd. (NASDAQ: PWRD) announced Sunday, that it has entered into a merger agreement with Perfect Peony Holding Company Limited, owned by the Company's founder and chairman, Michael Yufeng Chi, and Perfect World Merger Company Limited, a wholly owned subsidiary of Parent. At the time of the merger, each ADS, which represents five class B ordinary shares, will be cancelled in exchange for the right to receive $20.20 in cash without interest.
The merger is expected to close in H2 of 2015.
Perfect World shares rose more than 4% Monday, closing at $19.32.
View Comments and Join the Discussion!