Greece's Finance Minister Quotes Roosevelt To Express His Frustration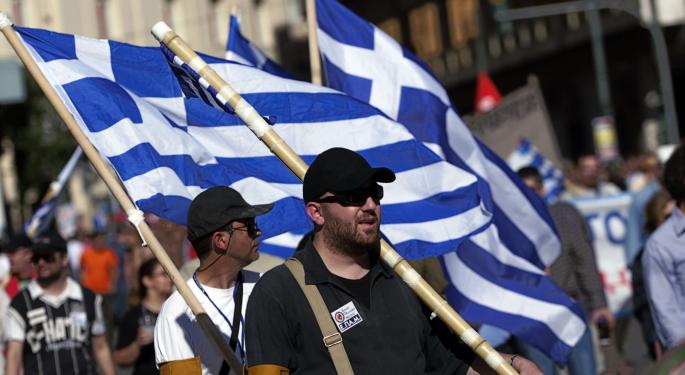 Following another tough round of reform talks over the weekend, Greek Finance Minister Yanis Varoufakis tweeted a quote by Franklin Roosevelt which read "they are unanimous in their hate for me; and I welcome their hatred."
The sentiment, he said, best describes how he has been feeling over the past few days as negotiations between Athens and its creditors seem to be going nowhere.
Time Running Out
Over the weekend, Varoufakis met with his counterparts from other eurozone nations in order to discuss how to unlock Greece's next installment of bailout funding before the country runs out of money and defaults on its loan repayments.
Most are expecting Athens to run out of cash in a matter of weeks, so pressure is growing for the two sides to strike a deal.
Misunderstood
Greek officials have been adamant in that they are not willing to sign up for more austerity cuts which they believe will be counterproductive to Greece's economic progress.
However, they remain the only advocates for fewer cut-backs with the majority of eurozone leaders in agreement that the only way they will release the money is if Greek leaders prove they are committed to financial reform.
Related Link: Hey Startups, Meeting Your New Neighbor: The Pentagon
Smoke And Mirrors
EU officials complain that Greek policymakers are avoiding specifics in their proposals for reform.
On Friday, when the region's finance ministers met, Austrian Finance Minister Hans Joerg Schelling commented that he was "quite annoyed" with the debt talks and that Greece's side of the negotiations included very few detailed facts and figures by which the ministers could gauge the nation's progress.
Grexit?
While there has been some rhetoric from German officials that Greece may be forced to leave the eurozone, most of the region's policymakers agree that a Grexit would not be in anyone's best interest.
Despite Germany's hard line on austerity cuts, German Chancellor Angela Merkel has promised to keep the lines of communication open in the coming days in order move the process forward.
However, with both sides adamant about their demands, many worry that they won't agree in time to transfer the money to Greece before Athens defaults.
View Comments and Join the Discussion!
Posted-In: Greece Hans Joerg Schelling Yanis VaroufakisEurozone Politics Global Top Stories General Best of Benzinga