Benzinga's Weekend M&A Chatter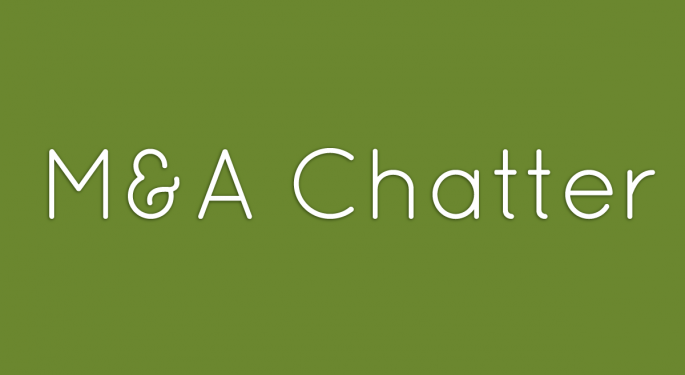 The following are the M&A deals, rumors and chatter circulating on Wall Street for Friday April 24 through Sunday April 26, 2015:
Pfizer, Biogen Potential Buyers for Swedish Orphan Biovitrum AB, According to Sources
The Rumor:
Swedish Orphan Biovitrum AB (OTC: SWTUY) would consider a takeover and has held talks with potential suitors, according to sources, as reported by Bloomberg on Saturday. Pfizer and Biogen are among the companies being mentioned as possible buyers. Sobi has reportedly hired Goldman sachs to assist in the sale process.
Spokespersons for Pfizer, Sobi, and Goldman Sachs declined comment, while Biogen could not immediately reached, according to the report.
Hearing Unconfirmed Market Chatter of Bristol Myers Bid for Celgene of $138/Share
The Rumor:
Shares of Celgene Corporation (NASDAQ: CELG) surged higher early Friday, on unconfirmed market chatter it may get a takeover offer from Bristol-Myers Squibb Company (NYSE: BMY). The offer is $138 per share, according to sources. SunTrust's Salveen Richter told Benzinga a takeover of Celgene is possible, as virtually all biotech names are "in play" for large pharmaceutical companies.
Spokespersons for Celgene and Bristol-Myers Squibb did not respond to requests for comment.
Celgene shares rose more than 2% Friday, closing at $118.71.
Infosys to Acquire Kallidus for $120M
The Deal:
Infosys Ltd (NYSE: INFY) announced Friday, it has entered into a definitive agreement to acquire provider of digital experience solutions, Kallidus Inc., for $120 million in cash, including retention bonus and a deferred component.
Infosys shares fell 9% Friday, closing at $31.81.
Apollo Global Management Looking to Sell Hostess for $2B
The Rumor:
Apollo Global Management (NYSE: APO) and C. Dean Metropoulos are looking to sell Hostess for $2 billion, according to the NY Post. That would give the investors a profit of $1.5 billion from their investment of $200 million.
Sources say Hostess is being shopped to competitors, including Flowers Foods, Inc. (NYSE: FLO) , Mondelez International, Inc. (NASDAQ: MDLZ), The Hershey Company (NYSE: HSY) and Campbell Soup Company (NYSE CPB). The investment group acquired Hostess in March 2013.
Apollo declined comment on the report.
Apollo shares rose $0.27 Friday, closing at $22.02.
Comcast Confirms Deal with Time Warner Cable, Charter Terminated
The Termination:
Comcast Corporation announced Friday, that its merger agreement with Time Warner Cable and its transactions agreement with Charter Communications, Inc. have been terminated. CEO Brian Roberts stated: "Today, we move on." "...we structured this deal so that if the government didn't agree, we could walk away."
Comcast shares rose $0.69 Friday, closing at $59.64. Time Warner Cable shares closed at $148.76 on Friday, but traded at $151 after-hours.
Scholastic to Sell Educational Technology Business to Houghton Mifflin Harcourt for $575M
The Deal:
Scholastic Corporation (NASDAQ: SCHL) announced Friday, that it has agreed to sell its Educational Technology and Services business to Houghton Mifflin Harcourt Company (NASDAQ: HMHC) for $575 million in cash. The deal is expected to close in Q2 of 2015.
Scholastic shares had risen more than 6 points on Monday and Tuesday, ahead of the announcement.
Scholastic Corporation shares fell $1.60 Friday, closing at $40.75.
Perfect World Enters into Definitive Agreement for Going Private Transaction for $20.20/ADS in Cash
The Going Private Bid:
Perfect World Co., Ltd. (NASDAQ: PWRD) announced Sunday, that it has entered into a merger agreement with Perfect Peony Holding Company Limited, owned by the Company's founder and chairman, Michael Yufeng Chi, and Perfect World Merger Company Limited, a wholly owned subsidiary of Parent. At the time of the merger, each ADS), which represents five class B ordinary shares, will be cancelled in exchange for the right to receive $20.20 in cash without interest.
The merger is expected to close in H2 of 2015.
Perfect World shares rose $0.26 Friday, closing at $18.52.
View Comments and Join the Discussion!