Marijuana Legalization Supporters Delivered A Blow With Schedule 1 Ruling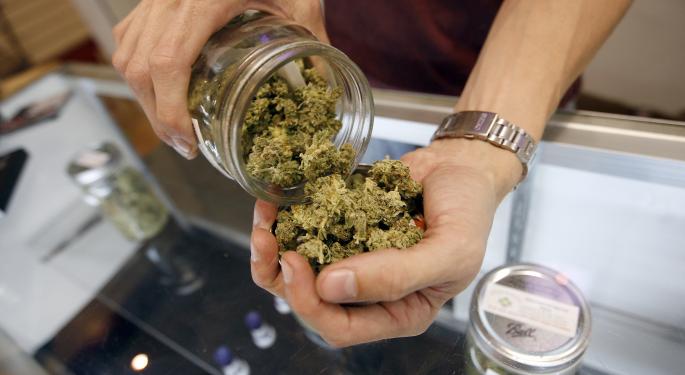 Marijuana supporters and businesses faced a potential setback this week after a federal court ruled that marijuana should remain on the Schedule I list of dangerous drugs with no medical use.
The U.S. District Judge presiding over the case, Kimberly Mueller, said it would be up to Congress to overturn the law. The ruling disappointed supporters of the drug's legalization as they were hoping to use the precedent of this case in their argument to reclassify at a federal level.
Why Does It Matter?
The Obama administration has made it clear that they will leave it up to individual state governments to determine whether or not to legalize medical and recreational marijuana. However, President Obama has been doubtful about any changes at a federal level, meaning that the drug will remain illegal in the federal government's eyes.
Related Link: Pot For Spot: Can Marijuana Treat Pets?
This divergence in policy at a state and federal level is creating a major obstacle for the growing marijuana industry as it puts marijuana-based businesses at a disadvantage. Banks, which are bound by federal legislation, are unable to engage with marijuana firms and many small business owners worry that their operations could be shut down if there is a policy change.
Research Paramount
Many supporters of reclassifying marijuana say it is a necessary step in order to expand research and development. Because of its status as a Schedule I drug, marijuana is very difficult to obtain and test, something that is hindering companies like GW Pharmaceuticals (NASDAQ: GWPH) and Insys Therapeutics Inc (NASDAQ: INSY), which are both developing drugs derived from cannabis.
The End For Legal Pot?
While the recent ruling was certainly a setback for the marijuana industry, it isn't the end of the fight for legalizing marijuana. There is still a belief that the federal government will eventually reclassify marijuana as public support for the drug grows.
Posted-In: marijuanaPolitics General Best of Benzinga
View Comments and Join the Discussion!