World Leaders Looking For Ways To Fight Back Against Terrorism Using Social Media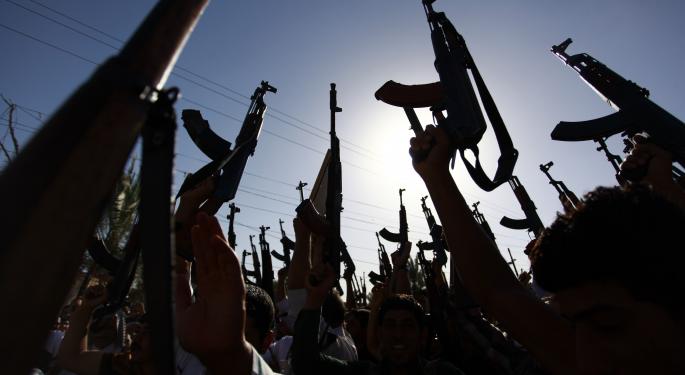 Internet companies and social media platforms are caught between a demand for more online privacy and a responsibility to fight against terrorism by monitoring online conversations and reporting them to the government.
Many believe that the advent of social media has been a major proponent for radical groups like ISIS, as they allow for individuals around the globe to connect over ideology and rally around that cause.
Unlike typical terror groups, ISIS has members from all corners of the world, and defense officials say they are recruiting more and more members through propaganda on social media.
Twitter
Twitter (NYSE: TWTR) has been at the center of the debate over how to prevent the spread of ISIS as the social media platform has been widely used by the group's members.
The Brookings Institute released a report showing that it estimated the number of ISIS supportive twitter accounts from September through December 2014 to be between 46,000 and 70,000.
The report also suggested that efforts by Twitter to ban such accounts may not be the most effective way to fight the spread of ISIS' radical ideology.
Data Sharing
President Obama and other leaders from around the world have called on internet companies, especially social media platforms, to share their data with government security agencies in order to help combat the threat of terrorism.
Related Link: Europe Mulls U.S. Trade Partnership With Skepticism
However, with Edward Snowden's disclosure of the government's phone data collection program, there has been a push from the public for more privacy.
Fighting Back
Defense agencies have been able to use some of the geo-data associated with Twitter users' tweets to locate citizens who've left their home country to fight for ISIS and single out others who appear to have become radicalized and could carry out a lone attack, but the process is becoming more difficult simply due to the volume of data that needs to be analyzed.
Most expect that data collection and analyzation will continue to grow in the coming years as international extremist groups make their way into new countries via social media.
Posted-In: Edward Snowden ISISNews Global Top Stories Best of Benzinga
View Comments and Join the Discussion!