Wait, What? CUBA Fund Doesn't Actually Own Any Cuban Assets?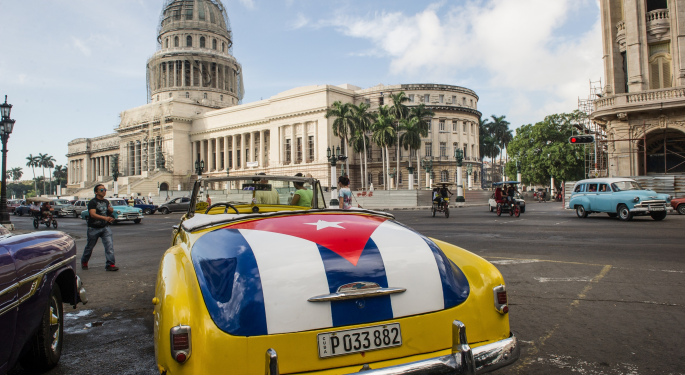 Managed by Thomas Herzfeld, the Herzfeld Caribbean Basin Fund, Inc (NASDAQ: CUBA) invests in several companies in the Caribbean, but focuses mostly on U.S. companies that capitalize on Caribbean progress.
It should be noted, though, that the ticker under which it trades is somewhat misleading, in the sense that the fund does not actually invest in Cuban companies. It does, however, invest in U.S. companies that could explode in value if the United States and Cuba began trading.
In its latest semi-annual report, the Herzfeld Caribbean Basin Fund included an interesting table presenting its largest investment and geographic allocations as of December 31, 2014.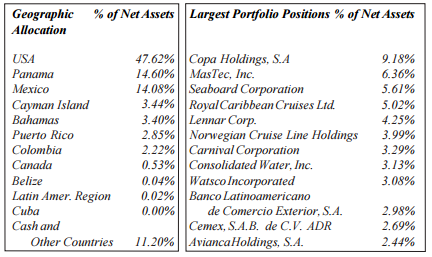 Source: Herzfeld Caribbean Basin Fund, Inc
One of the most interesting facts that the fund has no assets allocated at Cuba. Almost half of its assets are invested in U.S. companies. Other important geographies are Panama and Mexico, with an approximate allocation of 14 percent each.
Related Link: Herzfeld Caribbean Basin Fund Rises Amid Diplomatic Talks In Havana
Despite the absence of investment in Cuba, a letter to investors signed by Mr. Herzfeld said that an important part of the Fund's investment strategy continues to be focused on Caribbean Basin companies that it believes would benefit from the resumption of U.S. trade with Cuba.
Taking a look at the Fund's largest equity stakes might help better grasp this concept. Copa Holdings, S.A. (NYSE: CPA), the largest position, "looks poised to rebound in 2015... CPA already has the most flights to Cuba of any foreign operator, situated in the newer International Terminal 3 of José Marté International Airport in Havana, and is poised to profit from any pickup in flights to the island."
The second-largest holding, MasTec, Inc. (NYSE: MTZ), was founded by Cuban American immigrant Jorge Mas Canosa. Herzfeld recently said that MasTec "has the technology and resources and the understanding of Cuba" to capitalize on an eventual opening of business opportunity in the island.
The table above features several tourism-related companies that are also expected to benefit from the opening of U.S. tourism at Cuba.
Posted-In: Cuba Jorge Mas Canosa Mexico PanamaEconomics Markets Movers ETFs Best of Benzinga
View Comments and Join the Discussion!