Buckle Up, Mall REIT Investors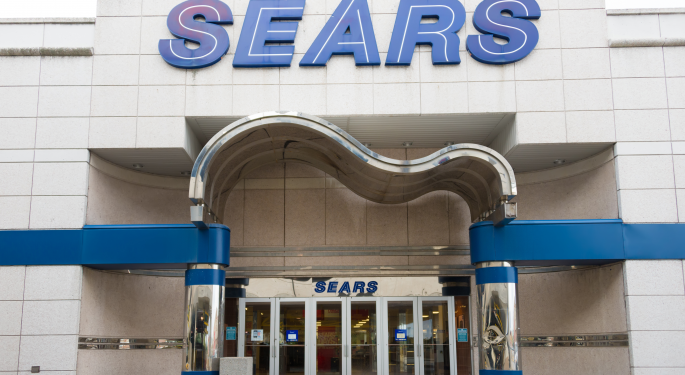 The three largest U.S. mall REITs -- Simon Property Group Inc (NYSE: SPG), General Growth Properties Inc (NYSE: GGP) and Macerich Co (NYSE: MAC) -- were all in the news on April 1.
Additionally, controversial mall anchor Sears Holdings Corp (NASDAQ: SHLD), took investors on a wild ride, spurred on by two major real estate announcements.
Sometimes When You Win, You Really Lose
One big story line was the Macerich board and management team which formerly rejected Simon's "best and final offer" of $95.50 -- 50/50 in cash and SPG shares -- as "substantially undervaluing" the company.
The Simon offer valued Macerich at $16.8 billion, net of debt.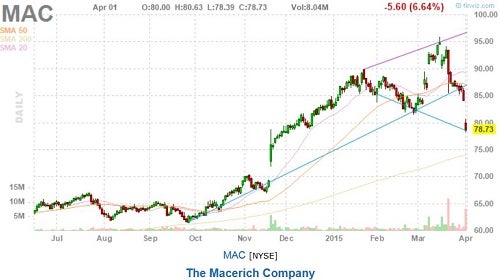 How did that work out for shareholder value?
Macerich shares traded down 6.6 percent, closing at the low of the day at $78.73, or 17.5 percent lower than the rejected offer. The current MAC market cap is just $12.5 billion.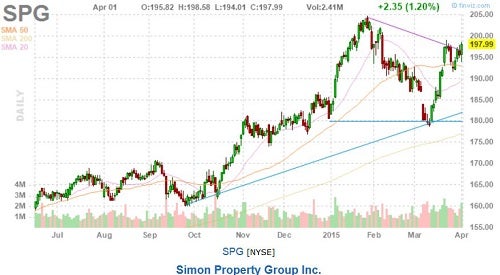 Shares of Simon Property Group closed just under $198, having clawed back ~10 percent, from trading at $180 per share when the Macerich acquisition looked like a distinct possibility.
Sears Seritage REIT - Mr. Market's Excitement Fades Rather Quickly
Welcome to the topsy-turvy world of CEO Eddie Lampert's Sears Holdings, where the retail bears and real estate bulls ultimately fought to a draw on Wednesday, April 1.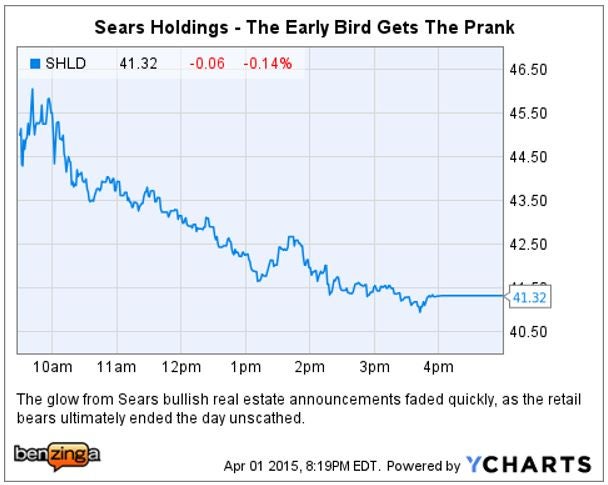 Lampert made two significant real estate announcements prior to the opening bell, and excited investors rushed in to purchase shares. Sears gapped up at the opening bell to $45.48, and traded at an intra-day high of $46.23, prior to fading away to just below the prior day's $41.38 per share close.
The unlucky investor who bought at the high of the day lost 11.7 percent by the end of the regular session.
Nonetheless, it appears that both Sears and General Growth Properties structured a winning deal.
Sears Holdings - GGP JV & New Seritage REIT S-11 Highlights
What investors may not have realized is that the two seemingly unrelated real estate announcements, are actually both carefully crafted to facilitate the launch of the Seritage Growth REIT:
1. GGP/Sears JV
General Growth agreed to pay Sears Holdings $165 million for a 50 percent JV interest in owning rights to 12 Sears's stores located in GGP malls.
Sears Holdings will lease execute a triple-net Master Lease with an initial term of 10 years, and two five year options, with an initial aggregate base rent of $17.3 million being paid to the JV for the 12 locations.
The GGP cash contribution values the JV at $330 million, for a going in cap-rate of ~5.25 percent.
The JV Entity has "the opportunity to create additional value through re-development and re-leasing of up to 50% of each property."
As part of the transaction, GGP has also agreed to invest approximately $33 million to acquire Seritage common shares in a private placement at a purchase price equal to the subscription price for the rights offering, discussed below.
This appears to be a win/win arrangement, where Sears gets cash, and can continue to downsize its store footprint; the GGP/SHLD JV benefits from higher base rents, increased mall traffic, and potential higher sales per SF from GGP's other mall tenants.
2. Seritage Growth REIT - Shareholder Rights Offering
The initial Sears and Kmart store count appears to be 254, basically right in the middle of the previously announced range of 200 to 300 locations.
Sears Holdings anticipates generating ~$2.5 billion of much needed cash from the sale of properties to the new Seritage Growth REIT.
Sears Holdings would in turn enter into a master lease agreement, pursuant to which it would lease the Sears and Kmart properties from Seritage and continue to operate its retail stores in those locations.
Sears Holdings also announced the filing of a registration statement on Form S-11 relating to its plans to distribute rights to acquire Seritage common shares to all Sears Holdings stockholders.
Sears Holdings expects to sell its 50 percent interest in the JV (for a purchase price equal to that being paid by GGP for its interest in the JV) to Seritage upon completion of the rights offering.
Investor Takeaway
It was a wild day at the mall.
The Sears real estate bulls have concrete progress toward a new REIT; while the Sears retail bears should be pleased that Sears shares could not hold on to share gains on the news for even one day.
Macerich management will be under the gun to perform moving forward, and Simon appears to be running out of desirable U.S. acquisitions.
Posted-In: Eddie Lampert Kmart searsNews REIT Events Real Estate Best of Benzinga
View Comments and Join the Discussion!