Exchanges Breakdown, Apple Quote Outage On Nasdaq For 6 Minutes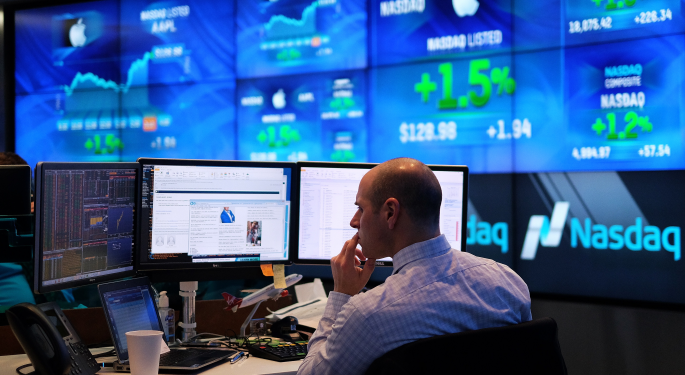 Update, 12:06:39pm: NYSE Arac Trading Support Confirms There Are Still Problems Sending Tape Data, Confirms It Wasn't A Rouge Algo, Will Issue Memo Once Investigation Is Complete
Update, 11:32:46am: Uncertainty Regarding NYSE, Seeing Resumed Trading Alerts For S&P Sector ETFs But No Data Come Through Market Systems
Update, 11:25:57am: NYSE Personnel Unreachable Following Outage Impacting S&P Sector ETFs
On Tuesday morning, multiple exchanges broke down and failed to send data to each other.
Nanex highlights that NYSE Arca's 'B-Tape' covering symbols from UTG to ZSML halted. This problem began, according to Nanex, at 10:05:23 EDT.
Regarding the orders in those stocks, NYSE said all live orders except GTC (Good Til Cancel) will be cancelled in those symbols.
Problems with sending data between exchanges happen from time to time and typically exchanges will issue 'Self-Help' on another exchange to draw attention to data dissemination problems. This problem is starkly different, as it caused many ETFs to halt trading across all markets.
In 2012, an algorithm at Knight Capital went haywire and nearly bankrupted the market-making outlet.
Of particular note, Apple Inc. (NASDAQ: AAPL)'s quote did not trade for six minutes.
After open, @NASDAQ stopped quoting in A-Z for between 6-8 minutes. Here is in $AAPL: between 09:31-09:37 ET pic.twitter.com/CXKtx24lml

— rockhowse (@rockhowse) March 31, 2015
At the time of this writing, normal trading activity appears to have resumed.
Posted-In: Apple quote outage exchange breakdownNews Events Markets Best of Benzinga
View Comments and Join the Discussion!