Market Implications As Iran Deal Deadline Approaches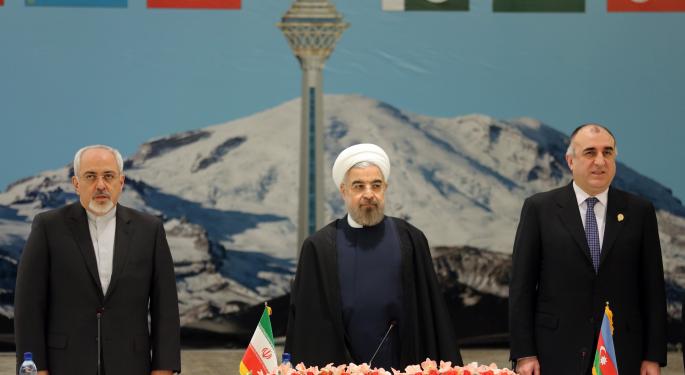 Western diplomats and Iranian officials worked overtime this week to come to an agreement regarding Tehran's nuclear development program before their self-imposed deadline on Tuesday night.
The group has vowed to make a preliminary deal by midnight, the details of which will be worked out over the course of the next three months.
A Delicate Balance
Ideally, most world leaders hope Iran will agree to curb its nuclear activities enough to keep the nation from developing an atomic bomb within the next 10 years.
If the Middle Eastern nation is willing to limit its atomic development programs, the West has promised lift the sanctions that have been weighing on the Iranian economy for years.
However, Iranian officials claim their uranium enrichment activities are not geared toward developing a weapon and have been reluctant to significantly cut down.
Implications For Oil
If a deal is reached, oil prices would likely dip further as Iran's oil exports would make their way into an already oversupplied market.
Sanctions have been keeping Iran from exporting crude, but if those sanctions were loosened or removed completely, the global supply glut would likely increase with the influx of oil.
Related Link: ECB QE Seems To Be Working...
Implications For The Market
The end of Western sanctions against Iran could prompt renewed interest in investing in the Tehran market. At the moment US banks are unable to do business in Iran, so Western investors have been unable to bet on Tehran's stock market.
In the mid-2000s, some chose to leave their money in Iran's market even as sanctions kicked in, but they have been unable to add to or remove that money ever since.
Most expect that the market would expand rapidly with an influx of foreign cash if a nuclear deal is reached.
Not So Fast
Although the deadline is just hours away, most believe negotiators still have a long way to go before any real agreement is made. Even if the two sides strike a deal on Tuesday, the accord could still fall apart as the technical details are worked out this summer.
The talks have been made even more complicated by recent threats by Congress to impose even stricter sanctions against Iran if no agreement is made.
View Comments and Join the Discussion!
Posted-In: Iran Middle East TehranNews Politics Global Top Stories General Best of Benzinga