Ben Bernanke Asks, 'Why Are Interest Rates So Low?'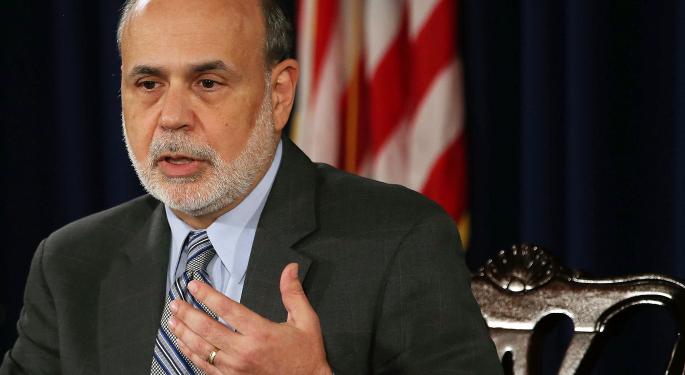 Economist and former chairman of the Federal Reserve, Ben Bernanke has started writing an official blog on Brookings to relay his views on various economic and financial issues.
For his first discussion, Bernanke asks, "Why are interest rates so low?"
In today's world where interest rates are globally at a low, Bernanke claims that "low interest rates are not a short-term aberration, but part of a long-term trend." This is of course of concern to individuals and corporations alike.
Related Link: Is A Fed Tightening Good For Water Utilities? This Analyst Thinks So
The Fed's Role
According to Bernanke, except in the short run, it's not just the Fed's decisions that affect interest rates. He says there are a lot of different factors that force the changes to take place, such as "prospects for economic growth."
He says that this is so because of one factor: equilibrium real interest rate. Bernanke explains equilibrium interest rate as "the real interest rate consistent with full employment of labor and capital resources, perhaps after some period of adjustment."
He further states that in a slow economy, or one that is going through a recession, "The equilibrium real rate is likely to be low, since investment opportunities are limited and relatively unprofitable.
"If the Fed were to try to keep market rates persistently too high, relative to the equilibrium rate, the economy would slow (perhaps falling into recession)...[or if the the market rates were too low] the economy would eventually overheat, leading to inflation," the ex-Princeton professor and ex-Fed chair states.
In The End
"The bottom line is that the state of the economy, not the Fed, ultimately determines the real rate of return attainable by savers and investors," says Bernanke.
To conclude, "The state of the economy, not the Fed, is the ultimate determinant of the sustainable level of real returns."
View Comments and Join the Discussion!
Posted-In: Ben Bernanke BrookingsFederal Reserve Best of Benzinga