A Concept Called 'Animated Printing' Is Taking 3D Printers By Storm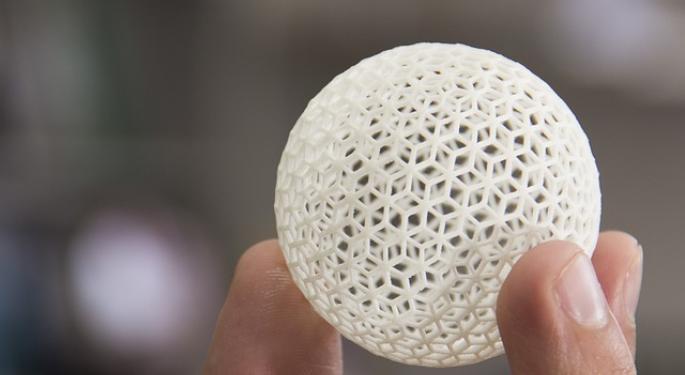 Last week, Carbon3D unveiled a new 3D printing process that claims to be able to print objects 25 to 100 times faster than traditional 3D printers.
The process is called Continuous Liquid Interface Production technology (CLIP).
Now, just a week later, Gizmo 3D is upping the ante.
The company is "working on a super fast SLA style 3D printer, which may actually one-up the Carbon3D system, as far as speed and print quality go," 3DPrint.com reports.
What makes Gizmo 3D's methodology so unique, the article explains, "is that instead of printing in broken layers, with quick flashes of a projected image from the DLP projector, [these] layers are printed like an animation, without any breaks between frames."
The method is known as "continuous printing," or "animated printing."
Kobus du Toit, the founder of Gizmo 3D, claims the technology is capable of printing an object 150mm x 80mm x 26mm in size in just 6 minutes.
The company plans to launch several 3D printers via a Kickstarter campaign.
The most basic model will be the GiziMate, priced at $2,500, followed by the GiziMax, priced near $6,000.
Is The Market Reacting?
Of note, mainstream 3D printer stocks Stratasys, Ltd. (NASDAQ: SSYS), 3D Systems Corporation (NYSE: DDD) and ExOne Co (NASDAQ: XONE) don't appear to be reacting to the news.
The niche, in general, has experienced a down year after valuation multiples have been questioned.
In February, industry expert Gary Anderson explained the reason some are bearish: "[M&As] dilute shares and it's costing them money in the short run and they're paying the price for it now...I think maybe by the end of this year, or sometime in 2016, we'll see a turnaround. But I think there's probably more pain ahead."
3D printing stocks are "still expensive," he added at the time.
Image credit: Public Domain
Posted-In: Carbon3D Gizmo 3D Kobus du ToitNews Rumors Tech Best of Benzinga
View Comments and Join the Discussion!