IPO Preview: Jernigan Capital mREIT Banks On Self-Storage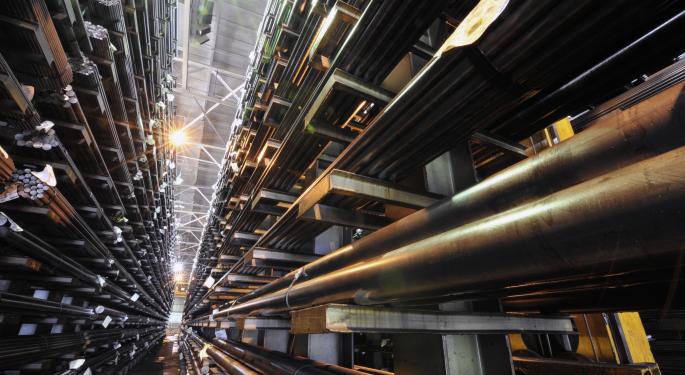 On March 26, a new commercial mortgage REIT (mREIT) Jernigan Capital Inc (NYSE: JCAP) is expected to make its IPO debut on the NYSE under ticker symbol JCAP.
The JCAP IPO has initially been filed for five million shares, with an underwriters expected price range of $19 - $21 per share, raising ~$115 million of equity capital.
The company has a focused business plan, built around former CubeSmart (NYSE: CUBE) CEO Dean Jernigan's in depth knowledge of this sector.
Prospectus - Jernigan Brief Bio
"Jernigan founded Storage USA in 1984 and grew the portfolio from a single facility to 570 assets in 35 states, eventually taking the company public in 1994 as one of the first exchange listed self-storage REITs. Storage USA under Mr. Jernigan's leadership dedicated approximately $200 million of its capital to the same strategies that we will pursue.
In 2006, Mr. Jernigan was recruited to replace the founder-chief executive officer of U-Store-It Trust. Under his leadership, U-Store-It successfully executed a business model shift, refinanced its balance sheet after the recession and rebranded as CubeSmart."
Publicly Traded Storage REITs
During the past few years, and especially since the Great Recession, CubeSmart and its three publicly traded REIT peers: Public Storage (NYSE: PSA), Extra Space Storage, Inc. (NYSE: EXR) and Sovran Self Storage Inc (NYSE: SSS), have all performed well due to their scale and ability access to capital markets.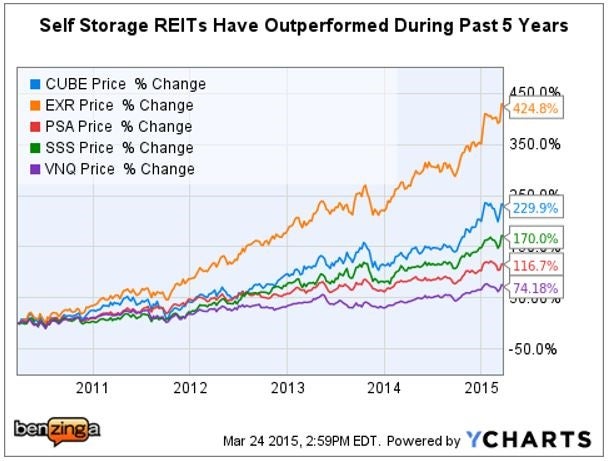 According to the JCAP Prospectus, "operating results of the four publicly traded self -storage REITs… averaged 8.3% same-store net operating income, or NOI, growth, 6.5% revenue growth and 2.1% operating expense growth in the fourth quarter of 2014 compared to the same period in 2013."
Supply & Demand
Demand drivers for self-storage remain fairly consistent even in a weaker macro-economic environment. The predictable changes in the family life cycle: marriage, divorce, death, enroll or graduate from college and downsizing for retirement, spur demand for self-storage units.
During the past five years new supply has been limited, primarily due to the dearth of lenders for the small operators that make up over 85 percent of this fragmented industry. In many markets, population growth has outstripped new supply.
The Opportunity - JCAP Prospectus
"We intend to originate a diversified portfolio of development, acquisition and refinance loans secured by self-storage facilities primarily in the top 50 United States metropolitan statistical areas, or MSAs… We believe these attractive opportunities exist due to excellent long-term self-storage industry fundamentals, significant demand for loans secured by self-storage facilities, and reluctance of commercial banks and other traditional lenders to loan money on acceptable terms to finance self-storage facilities."
JCAP Business Model - Hypothetical Loan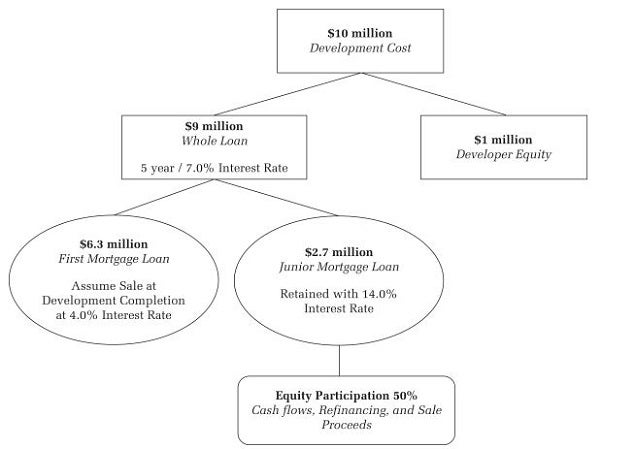 Source: JCAP S-11 SEC filing
Unique Asset Class
One reason self-storage is a difficult asset class to underwrite is that it usually takes 3 to 4 years for a new development to reach stabilization -- usually at ~80 percent occupancy.
Traditional lenders simply don't have the appetite or the skill sets to underwrite a mini-perm development loan which will likely stay on the books for a few years.
Jernigan Capital appears to be an mREIT with the potential for outperformance from the negotiation of equity participation "kickers" on selected projects.
JCAP Prospectus - Competitive Advantages
Experienced Sponsor with Proven Results.
Significant Experience in Mortgage Lending to Self-Storage Industry.
Attractive Growth Pipeline Consisting of Proprietary Opportunities.
Focus on Providing Innovative and Efficient Loan Solutions for the Self-Storage Industry.
Attractive Risk-Adjusted Returns through Junior Mortgage Loans and Equity Participations.
Investors Takeaway
Investing in IPOs can be a risky strategy due to the lack of operating history as a public company.
A long list of JCAP risk factors can be found on page 16 of the S-11 Prospectus, which also details the agreement between Jernigan Capital and its external manager.
Posted-In: Dean Jernigan JCAPREIT Previews IPOs Top Stories Trading Ideas Real Estate Best of Benzinga
View Comments and Join the Discussion!