Presidential Hopeful Ted Cruz Intends To Kill The IRS If Elected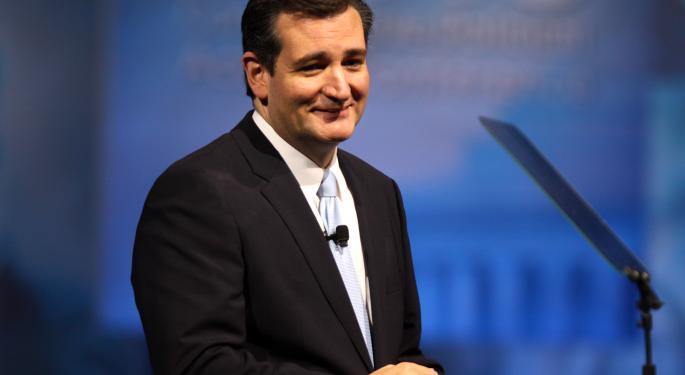 Texas Sen. Ted Cruz, announced his bid for Republican presidential nominee Monday at Liberty University in Virginia, reports The Washington Post. In his speech to announce his candidacy, Sen. Cruz also said he would aim to not only reform taxes, but abolish the IRS altogether.
"Instead of a tax code that crushes innovation, that imposes burdens on families struggling to make ends meet, imagine a simple flat tax that lets every American fill out his or her taxes on a postcard," Cruz said.
"Imagine abolishing the IRS."
Ted Cruz Has Threatened IRS Closure Since 2013
Cruz has mentioned before that he thinks the IRS should be abolished, and made a Facebook post as long ago as May 2013 with similar wording used in his presidential bid speech.
And while Cruz's speech touched on many ideas and plans for his potential presidency, Cruz has stuck to his conviction that the U.S. would be better off without the IRS, and even told Sean Hannity at the Conservative Political Action Conference in February that abolishing the IRS was his No. 2 priority after repealing Obamacare, joking he would "take all 125,000 IRS agents and put them on our southern border.
Tax reform is a big sell for Tea Party voters, who have so far been Cruz's strongest supporters. But while this tax season is probably making a defunct IRS sound attractive to many taxpayers, Cruz's proposal to do away with the IRS is just silly.
And Cruz acknowledges that enforcing a tax code, even a simple flat-rate version, would still be necessary, with a spokesperson for Cruz, Catherine Frazier, said to Dallas News, "The senator has never contested that there would be a small department that would enforce the tax code, but the IRS as we know it would be gone.
IRS Already Crippled By Budget Cuts
Cruz's view that the IRS should be abolished is just an extreme of conservative attempts to limit the IRS' scope, budget and power. Already, IRS budget cuts have undermined its ability to enforce the tax code, which could actually cost the U.S. government up to $3 billion in uncollected taxes for the 2014 tax year, reports Reuters.
While its role of collecting Americans' money makes the IRS deeply unpopular, it is vital to funding numerous other federal agencies that many taxpayers depend on, from Medicare to Social Security.
In his speech, however, Cruz glossed over the difficulties of completely overhauling the U.S. tax system and agency.
"Over and over again, when we face impossible odds, the American people rose to the challenge," Cruz said. "You know, compared to that, repealing Obamacare and abolishing the IRS ain't all that tough."
Image credit: Gage Skidmore, Flickr
The preceding article is from one of our external contributors. It does not represent the opinion of Benzinga and has not been edited.
Posted-In: closing the IRS IRS Ted CruzNews Politics Events General Best of Benzinga
View Comments and Join the Discussion!