JPMorgan Relieved On Dismissal Of Better Markets Lawsuit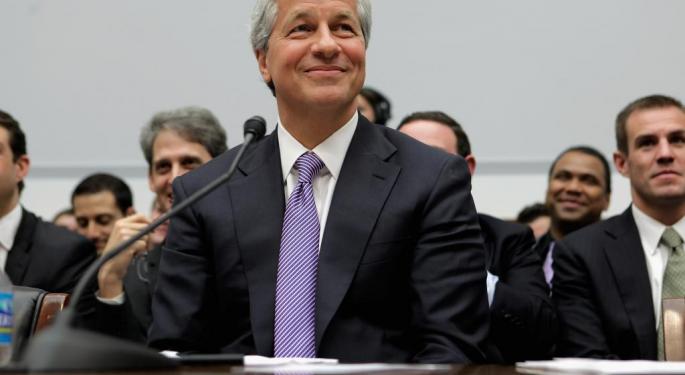 This article is the opinion of Zacks and has not been edited.
A lawsuit filed against a settlement between JPMorgan Chase & Co. (NYSE: JPM) and the U.S Department of Justice (DOJ) was recently dismissed by U.S Federal Judge Beryl A. Howell. The lawsuit, filed by non-profit group Better Markets, was turned down by Howell due to lack of substantial evidence of any harm caused.
Stating, "The plaintiff has failed to meet its burden to show it has suffered an injury in fact," Judge Howell has turned down Better Market's plea.
The story dates back to 2012, when the New York Attorney General Eric Schneiderman sued the Wall Street giant over charges of selling fraudulent loans to investors prior to the 2008 financial crisis. Later, in Nov 2013, JPMorgan and the DOJ reached a settlement of a then-record amount of $13 billion, resolving the aforementioned claims.
However, the settlement case came under limelight again when the Washington-based group questioned the DOJ's integrity and powers, and demanded a lawful judicial review. Subsequently, Better Markets filed a lawsuit against the DOJ in Feb 2014. Notably, in May 2014, the DOJ bid for dismissal of the lawsuit, stating the Washington-based group had no legitimate reason in support of its action.
Though the lawsuit has been officially dismissed, we believe that Better Markets' claims were not completely baseless. While the concerned settlement had been released in public, it was not filed in the federal court. Moreover, factual details related to the damage done or the individual held responsible had not been stated. We believe there should be enhanced transparency and lawful review in litigations involving violation of civil interests.
Among other Wall Street biggies, Bank of America Corp., The Goldman Sachs Group, and Citigroup Inc. have also been charged for allegedly selling faulty mortgage-backed securities which fueled the sub-prime mortgage crisis.
For JPMorgan, the dismissal of the lawsuit comes as a major relief. However, the company continues to face several other cases and probes regarding its business conduct prior to the financial crisis. Though the bank has resolved many litigation issues in the past, persistent legal hassles continue to drag its financials.
Currently, JPMorgan carries a Zacks Rank #3 (Hold).
The preceding article is from one of our external contributors. It does not represent the opinion of Benzinga and has not been edited.
Posted-In: News Legal Best of Benzinga
View Comments and Join the Discussion!