The Way Gold Prices Are Calculated Just Changed Forever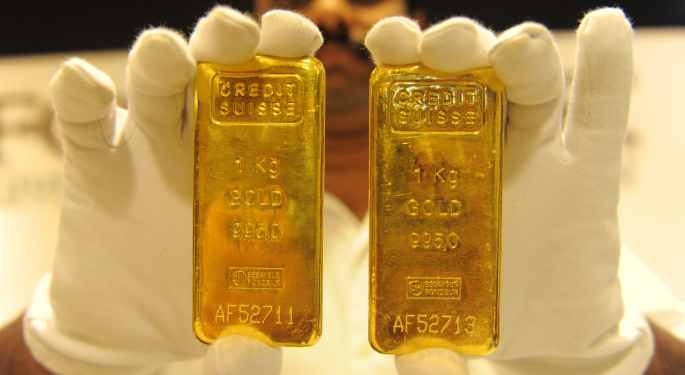 The London Bullion Market Association (LBMA) launched its new LBMA Gold Price this Friday, replacing the London Gold Fix, the standard global pricing medium that has been used for over a century.
The Intercontinental Exchange (ICE) Benchmark Administration will be operating the auction process, and the new price fix could potentially provide a better reflection of China's high gold demand than the London Gold Fix has in years past.
More Participants Means More Accurate Pricing
The London Gold Fix, which will now be discontinued, took into account only four participants. This relatively small sample size left its gold prices open to constant criticism of manipulation and price fixing over the years.
The LBMA is pledging transparency in its new gold pricing process, and its electronic auctions will allow as many participants as possible.
China Gets Involved
China is expected to be directly involved in the new gold pricing process. China is the world's second largest economy and one of the largest gold buyers in the world.
Related Link: 7 Reasons Gold Could Hit $3000
According to Kerr Trading International President Kevin Kerr, China's participation in the new gold pricing process means Chinese gold demand will be truly reflected in gold prices for the first time.
"This opens up the playing field for gold trading, and adds an entirely new spectrum of possibilities and participants, mainly the Chinese, on the world stage," Kerr explains.
Price Fix Participants
ICE has revealed that Barclays PLC (ADR) (NYSE: BCS), HSBC Holdings plc (ADR) (NYSE: HSBC), The Bank of Nova Scotia (NYSE: BNS), Societe Generale SA, UBS Group AG (NYSE: UBS) and Goldman Sachs Group Inc (NYSE: GS) will participate in the new gold price fixing auction.
Shares of SPDR Gold Shares ETF (NYSEMKT: GLD) are down more than 30 percent in the past year.
View Comments and Join the Discussion!
Posted-In: News Specialty ETFs Commodities Events Markets ETFs Best of Benzinga