Steve Jobs Was Not Opposed To An Apple-Nintendo Partnership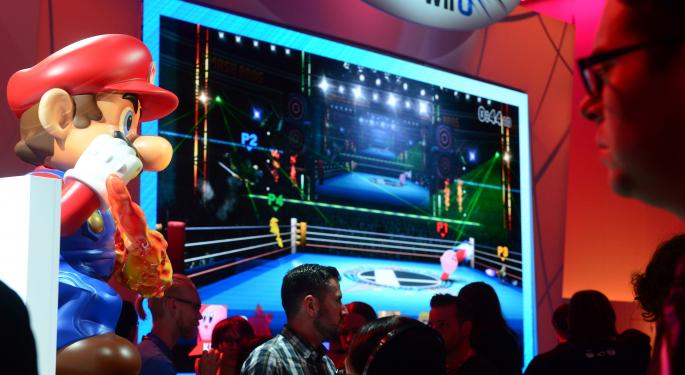 Nintendo Co., Ltd (ADR) (OTC: NTDOY) announced this week that it will develop games for smartphones. The news surprised many consumers, who expected Nintendo to hold onto its belief that smartphone development was bad for its business, which relies heavily on hardware sales.
The surprises did not end there. It turns out that an investor once told Apple Inc. (NASDAQ: AAPL) co-founder Steve Jobs that he should partner with Nintendo.
"In 2010, I told Steve Jobs that he should form a strategic partnership with Nintendo because Apple doesn't make games," Asif Khan, CFO of Virtue LLC and CEO of Shacknews.com, told Benzinga. "Ideally, Apple should have their own gaming studio. In lieu of that, they should pay game developers for exclusive content."
Khan has owned shares in Apple since 1997. He attended the last five shareholder meetings and said that Nintendo would be an "obvious partner."
"I could totally see Nintendo on the stage at an Apple event," he said. "It would make a lot of sense for Google and Apple to be vying for some sort of exclusive software deal for Nintendo. Even if they just make a 'Mario' endless runner, it's going to be the top seller on the App Store. You're delusional if you don't think that."
Related Link: Nintendo Promoted 'Mario Kart 8,' Nintendo 2DS With $9.7 Million TV Ad Campaign
Steve Jobs' Unexpected Response
Khan said that Jobs initially used his token line about how Apple "can only do a few things really well."
"But he did say a strategic partnership -- if profitable -- makes a lot of sense," said Khan.
Two years later, Khan gave the same suggestion to Apple CEO Tim Cook.
"Tim Cook kind of deflected the whole thing," Khan recalled. "He turned it into, 'Apple has plenty of cash.'"
Steve Jobs Hated Buttons And Video Games, However
Jobs hated buttons. There was a time when video games turned him off, as well.
"Steve Jobs had a content for video games and it continues at the company," said Khan. "Look at their Mac hardware. It's horrible for PC gaming! They use discreet Intel graphics instead of NVIDIA GPUs. If they do put a GPU in it, it's an ATI from AMD."
Khan said this goes all the way back to the 1980s when Trip Hawkins, founder of Electronic Arts Inc. (NASDAQ: EA), 3DO and Digital Chocolate, worked for Apple.
"He showed Steve Jobs this game he was working on, and [Jobs] said, 'We're not doing that,'" Khan added. "Steve Wozniak ended up funding him -- that turned into Electronic Arts. Apple could have been Electronic Arts by now, and that would have been huge!"
Disclosure: At the time of this writing, Louis Bedigian had no position in the equities mentioned in this report.
View Comments and Join the Discussion!
Posted-In: Asif Khan Nintendo Shacknews Steve Jobs Steve WozniakTop Stories Exclusives Tech Best of Benzinga