Mall Wars Could Get Ugly…In Fact, They Already Have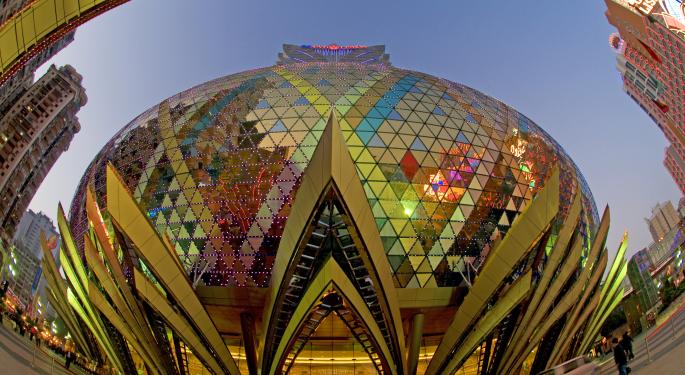 On March 17, Macerich Co (NYSE: MAC) Chairman and CEO Arthur Coppola published a letter response to the recent Simon Property Group Inc (NYSE: SPG) $91 per share unsolicited offer.
"[The s]tock portion of Simon's conditional bid would replace equity in a pure play high-end mall company with ownership in a retail real estate conglomerate with opaque disclosure and disenfranchising dual-class capital structure."
The short version? "Just Say No."
A Strong Defense
The Macerich board not only unanimously rejected Simon's offer; it took advantage of Maryland corporate law which allows REITs to adopt a "classified board structure" -- with staggered election for board members -- and also authorized a "poison pill" shareholders rights offering intended to thwart Simon.
Debating Simon's Metrics
The rejection letter addressed to David Simon took issue with Simon's claim that it operates malls at "superior margins" to Macerich:
"In your March 9 letter, you claim to operate at superior margins. This is impossible for anyone to verify as you do not disclose separate performance data between your mall and outlet portfolios. However, you may recall that we formed a joint venture in February 1998 to acquire twelve similar properties primarily in the Midwest, with each of us operating six of these malls. Over the last 10-years of this joint venture, the Macerich-operated properties saw same-store NOI increase by 8.8% while the Simon-managed properties experienced an 8.4% decline."
Coppola also made the point that since Simon does not break out the performance of its malls from its Outlet Centers, there was no way to accurately compare Macerich mall performance with the Simon operated portfolio.
Related Link: Why Simon Is Interested In Macerich
Macerich Presentation - Highlights
The Macerich news release highlighted the progress Macerich has made in upgrading and redeveloping its portfolio of malls -- now focused on "Super Zip Codes" -- while taking pains to underscore the unique and irreplaceable nature of the Macerich portfolio of mall assets.
In addition, Macerich posted a 22-slide presentation on its website on March 17 to make its case to shareholders and to any potential suitors: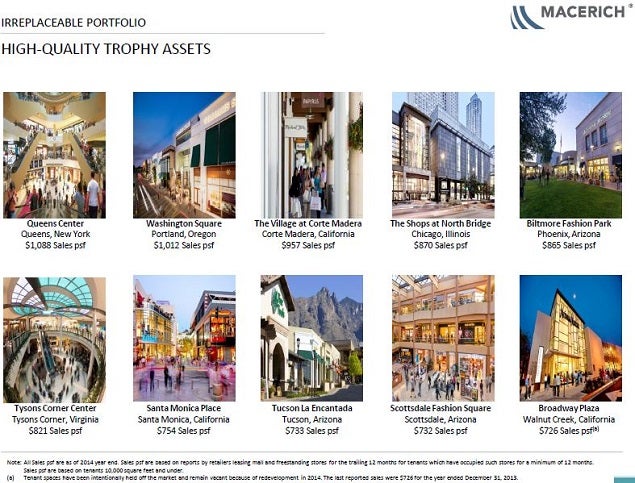 Demographics Drive Mall Performance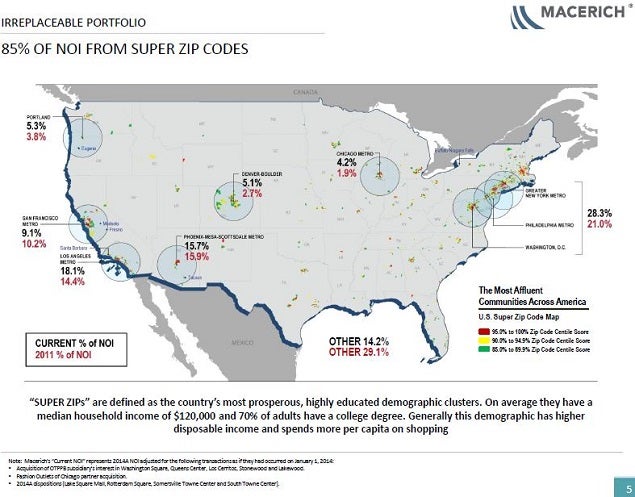 Macerich - Cost Of Capital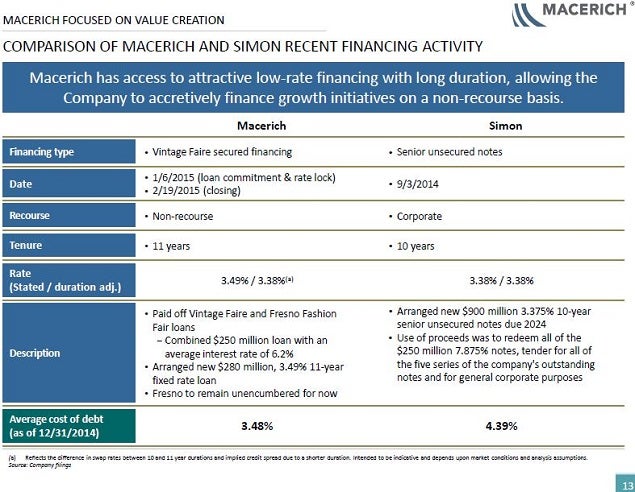 Wall Street Quotes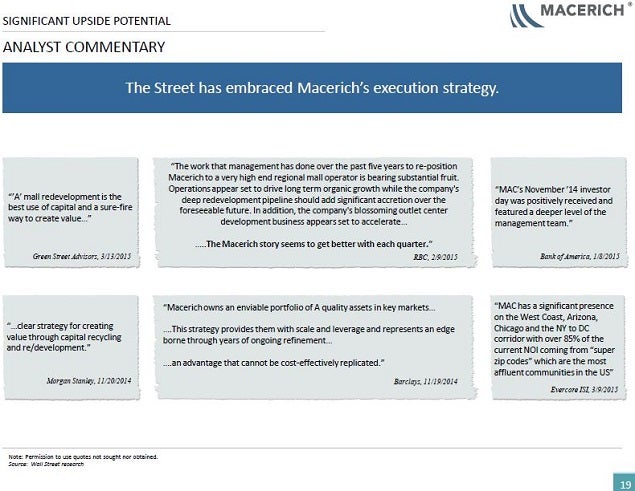 Just Say No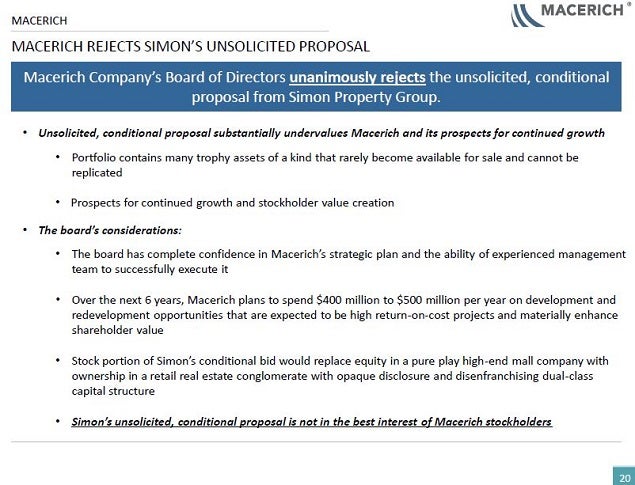 White Knight?
After the dust settled on March 17, Macerich shares closed at $91.60, down 3.47 percent from the previous day's close of $94.89.
Clearly, Mr. Market does not believe that there is another viable suitor waiting in the wings to rescue Macerich at a higher price level at this point.
General Growth Properties (NYSE: GGP)'s role in this drama to date has been as a potential purchaser of unspecified Macerich mall assets if Simon gains control of Macerich.
Macerich has now publicly questioned "if this partnership raises serious antitrust concerns as it is a concerted effort by the two largest companies in the industry to acquire the number three company."
Simon made a clear argument as to why it felt that $91 per share is a fair price and can try to take its case directly to the Macerich shareholders.
Bottom Line
It appears that Macerich has stymied Simon's unsolicited efforts for the time being, and now the somewhat deflated ball is back in Simon's court.
Posted-In: Arthur Coppola David SimonNews REIT M&A Top Stories General Real Estate Best of Benzinga
View Comments and Join the Discussion!