Blackstone CEO Steve Schwarzman On 'The Art Of The Long View'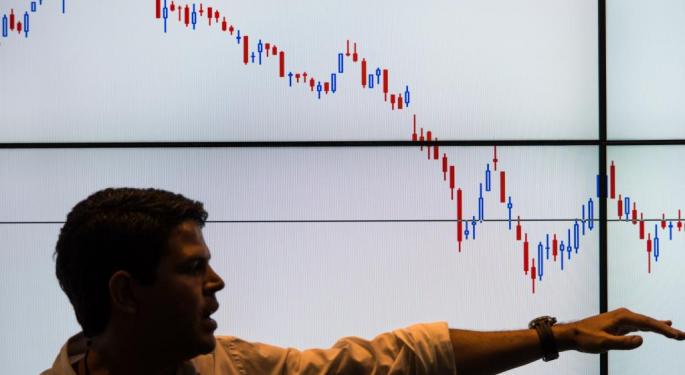 On March 17, Blackstone Group LP (NYSE: BX) Chairman and CEO Steve Schwarzman released his 2014 Chairman's Letter: "The Art of the Long View."
He began with a quote from the 30-year old private equity firm's 2007 Prospectus:
"Blackstone has always been managed with a perspective of achieving successful growth over the long-term … Our management has consistently sought to focus on the best outcomes for our businesses and investments over a period of years rather than on the short-term impact."
Tale Of The Tape - IPO To March 17, 2015
Here is a quick comparison of total returns using the SPDR S&P 500 ETF (NYSE: SPY) as a basis for a long view comparison. The SPY ETF currently yields 1.8 percent.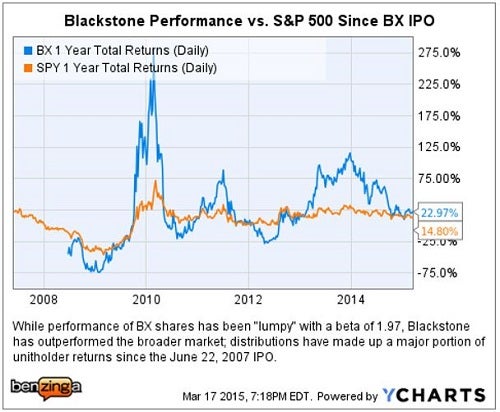 During 2014 a total of $2.12 was distributed to BX unit-holders which was a 58 percent increase from the prior year.
Based upon the recent closing price of $38.08 per share that corresponds to an annual yield of over 5.5 percent.
5 Key Takeaways - Blackstone 2014 Annual Chairman's Letter
1. Spin-Out of Advisory Group:
In October 2014 Blackstone announced that it was spinning-out and combining its financial advisory, restructuring advisory and fund placement business, (including Park Hill), with PJT Partners.
"Our advisory practices have been an important part of the Blackstone family for almost 30 years, and they had one of their best years ever in 2014. Yet given the ever-increasing scale of our investing businesses, significant further growth of our advisory units will be constrained by actual or perceived conflicts."
Schwartzman had previously indicated that post-spin Blackstone unit-holders would initially own 65 percent of PJT Partners, with the balance being owned by firm employees.
2. Record Performance:
Blackstone's long-term perspective paid off in 2014 with record performance in all three key metrics: realizations, earnings and distributions.
Q4 & FY 2014 Highlights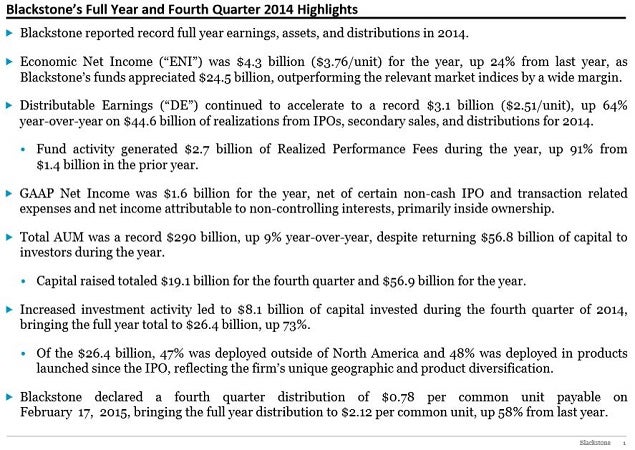 Source: Blackstone Q4 Earnings Release
Schwartzman pointed out that assets under management (AUM) had compounded at a 16 percent rate since the Blackstone IPO; growing every year, "including through the global financial crises."
3. Record Capital Deployments:
During 2014 $26 billion in capital was deployed, and notably 47 percent of this capital was deployed outside of North America.
Additionally, the amount of capital raised by Blackstone during 2014 totaled $57 billion, "as much as the next four alternative asset managers combined."
Schwartzman noted that Blackstone has one of the industry's largest pools of "dry powder," "allowing us to move quickly and decisively to take advantage of investment opportunities around the world on a large scale."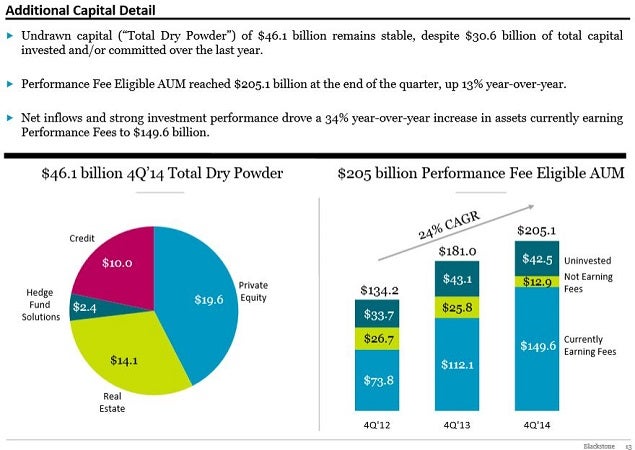 Source: Blackstone Q4 2014 Earnings Release
4. Energy Markets:
"While the industry is now under duress, energy has been a significant and highly successful sector for us for some time. We are methodical and differentiated: we do not make investments that depend on above mid-cycle commodity prices. Instead, we look to invest in mispriced assets where we can create value through active improvements. And we protect on the downside with conservative capital structures, forward sales and off-take agreements."
Schwartzman views the firm as being well positioned with $9 billion of capital to deploy through energy private equity and credit funds.
5. Innovation:
Schwarzman made the point that ~50 percent of total AUM has invested in products launched after the Blackstone IPO. Successful new platforms included:
Tactical Opportunities business
Core-plus Real Estate strategy
Strategic Partners secondary business
Hedge Fund Solutions - developed a "registered product" as part of an initiative to target high net-worth individuals.
Notably, during 2014 Blackstone raised $11 billion through retail channels.
Posted-In: Steve SchwarzmanNews Hedge Funds Movers & Shakers Management Top Stories General Real Estate Best of Benzinga
View Comments and Join the Discussion!