Benzinga's Weekend M&A Chatter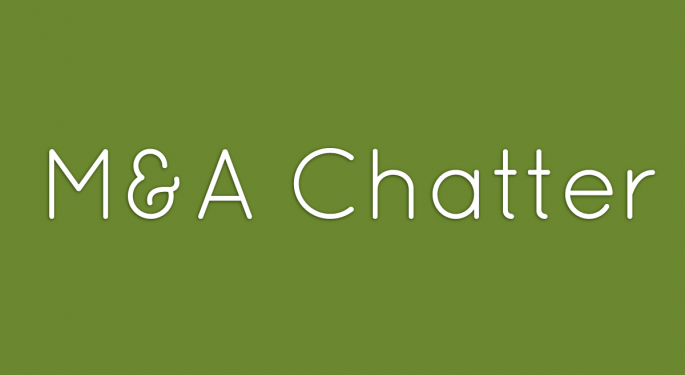 The following are the M&A deals, rumors and chatter circulating on Wall Street for Friday March 13 through Sunday March 15, 2015:
Conflicting Reports on Potential Whiting Sale
The Rumor:
Shares of Whiting Petroleum (NASDAQ: CHTR) spiked sharply higher Friday, and were halted on a circuit-breaker, on a report from Bloomberg that the company has drawn interest from potential buyers, including ExxonMobil (NYSE: XOM), Continental Resources Inc (NYSE: CLR), Hess (NYSE: HES) and Statoil (NYSE: STO), according to sources.
Reuters later reported that their sources said that Whiting was selling Texas acreage and pipeline assets as an alternative to a sale of the full company.
Representatives for Whiting and Hess declined comment, while Exxon, Continental and Statoil did not immediately respond. The Wall Street Journal reported on March 7, that Whiting was seeking a buyer.
There was unusual activity in the March $39 Whiting call on Friday morning.
Whiting Petroleum shares closed at $40.00 Friday and traded as high as $41.37 after-hours.
KKR, Varde, Deutsche Bank Acquire GE Capital Consumer Finance Unit for $6.3B
The Deal:
A consortium Värde Partners, KKR (NYSE: DB) and Deutsche Bank (NYSE: DB) have signed an agreement to acquire GE Capital's Australia and New Zealand Consumer Lending Business at an enterprise value of A$ 8.2 billion ($6.3 billion).
The transaction is subject to customary regulatory approvals. Further terms of the deal were not disclosed.
GE shares fell $0.36 Friday, closing at $25.04.
Valeant Reportedly to Raise Bid for Salix to $160+/Share
The Offer:
Valeant Pharmaceuticals International (NYSE: VRX) is planning to raise its bid for Salix Pharmaceuticals Ltd. (NASDAQ: SLXP) to more than $160 per share, according to sources, as reported by the NY Times. Pershing Square Capital Management, ValueAct Capital and Valeant will team up to raise the offer for Valeant, the sources indicated.
Valeant had agreed to acquire Salix for $158 a share in cash in February. Endo International plc (NASDAQ: ENDP) countered on March 11, with a bid of $175 per share, mostly in Endo shares.
Pershing Square's Bill Ackman stated on Friday that Valeant would not overpay for Salix. Pershing Square reported a 5% stake in Valeant on March 9.
Salix shares lost $0.65 Friday, closing at $169.40; Valeant shares gained 2.5%. to close at $197.43; Endo lost 3.5%, closing at $87.33.
CRT Capital Acquires Sterne Agee's Institutional Equities Business
The Deal:
Stifel Financial Corp. (NYSE: SF) and Sterne Agee Group, Inc. announced Sunday, that they have agreed to sell Sterne Agee's Institutional Equities business, including Equity Sales, Trading and Research to CRT Capital Group LLC. Financial terms were not disclosed.
Stifel Financial shares fell $0.61 Friday, closing at $55.62.
View Comments and Join the Discussion!