Benzinga's M&A Chatter for Thursday March 12, 2015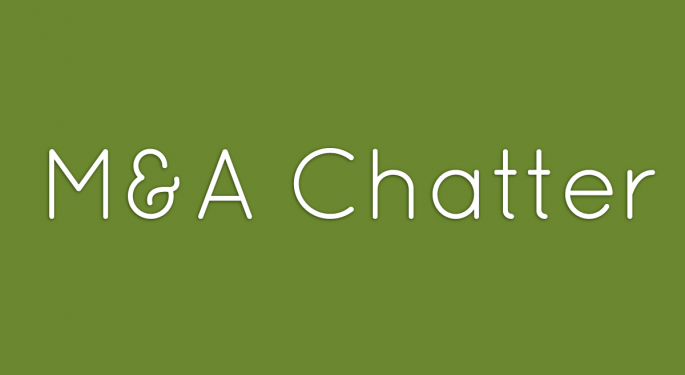 The following are the M&A deals, rumors and chatter circulating on Wall Street for Thursday March 12, 2015:
Charter Communications in Talks to Acquire Bright House
The Rumor:
Shares of Charter Communications (NASDAQ: CHTR) surged higher Thursday, on a Bloomberg report that the company was in talks to acquire BrightHouse Networks. A spokesperson for BrightHouse said company does not have an agreement with anyone, although they have had talks with multiple parties.
Charter lost out to Comcast Corporation (NASDAQ: CMCSA) last year in a bid to acquire Time Warner Cable Inc. (NYSE: TWC).
Charter Communications shares gained 6% Thursday, closing at $193.46.
InMobi CEO Says No Plans to Sell Company to Google
The Rumor:
InMobi's founder and CEO, Naveen Tewari, told his
employees in an email Thursday, that he has no plans to sell the company. Economic Times had reported that Google Inc. (NASDAQ: GOOG) was in talks to acquire the mobile advertising startup, according to sources. InMobi is reported to have been seeking $2 billion in a deal.
Google shares rose $4.33 Thursday, closing at $555.51.
EU Commission Clears ZF Friedrichshafen's Acquisition of TRW
The Approval:
ZF Friedrichshafen received antitrust approval from the European Union Thursday for its proposed $13.5 billion acquisition of TRW Automotive Holdings Corp (NYSE: TRW), according to Reuters. The German car parts maker had agreed to sell TRW's chassis components unit in order to secure clearance.
TRW shareholders approved the acquisition by ZF Friedrichshafen in November 2014. It is expected to close in H1 of 2015.
TRW shares gained $0.40 Thursday, closing at $104.96.
View Comments and Join the Discussion!