Benzinga's M&A Chatter for Tuesday March 9, 2015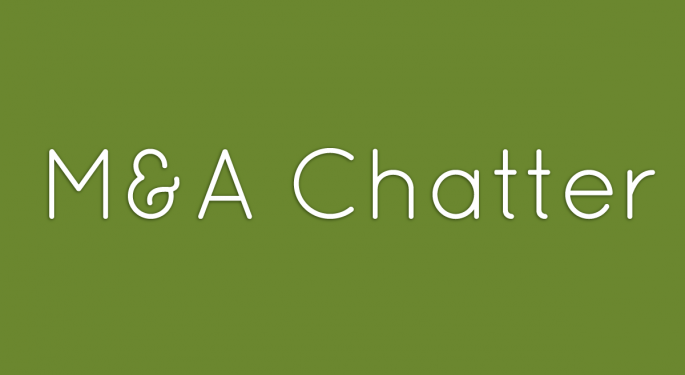 The following are the M&A deals, rumors and chatter circulating on Wall Street for Monday March 9, 2015:
Simon Property Group Proposes Acquisition of Macerich for $91/Share in Cash, Stock
The Offer:
Simon Property Group, Inc. (NYSE: SPG) announced Monday, that it is offering to acquire all of the outstanding stock of Macerich for $91.00 per share in cash and Simon shares, for a total value of approximately $22.4 billion. Macerich shareholders will receive 50% in cash and 50% in SPG shares.
In conjunction with the Macerich offer, Simon announced an agreement in principle to sell selected Macerich assets to General Growth Properties, Inc. (NYSE: GGP)
Macerich confirmed receipt of the proposal from Simon and said its Board of Directors will review the proposal with its financial and legal advisors. Macerich stockholders are being advised to take no action at this time.
Macerich shares gained 7.5% Monday, closing at $92.60.
Pershing Square Buys 5% Stake In Valeant Pharmaceuticals
The Activist Stake:
Pershing Square Holdings, Ltd. (OTC: PSHZF) announced Monday, as 4.9% stake in Valeant Pharmaceuticals International, Inc., (NYSE: VRX), representing
approximately 16.9% of the PSH portfolio. Pershing Square announced that various funds it manages have purchased 16,473,933 shares of Valeant.
Pershing Square Holdings shares gained $0.15 Monday, closing at $27.75.
Hearing Unconfirmed Market Chatter of Symantec $30+/Share Bid for Vasco Data Security
The Rumor:
Shares of Vasco Data Security (NASDAQ: VDSI) spiked higher Monday, on unconfirmed market chatter of a potential bid of more than $30 per share from Symantec Corporation (NASDAQ: SYMC).
Spokespersons for Vasco and Symantec did not immediately respond to requests for comment.
Vasco Data Security shares closed Monday at $23.01, a gain of 2%.
Alcoa to Acquire RTI International Metals for $41.00/Share
The Rumor:
Alcoa (NYSE: AA) announced Monday, it has signed a definitive agreement to acquire RTI International Metals, Inc. (NYSE: RTI), in a stock-for-stock transaction with an enterprise value of $1.5 billion. RTI shareholders will receive 2.8315 Alcoa shares for each RTI share, representing a value of $41 per RTI share based on Alcoa's closing price on March 6, 2015.
RTI shareholders must approve the deal.
Alcoa shares closed Monday at $13.70, a loss of more than 5%.
Gaming and Leisure Properties Offers to Acquire Pinnacle's Real Estate Assets
The Offer:
Gaming and Leisure Properties, Inc. (NASDAQ: GLPI) announced Monday, that it has sent a letter to the Board of Directors of Pinnacle Entertainment, Inc. (NYSE: PNK) conveying GLPI's offer to acquire the real estate assets of Pinnacle for GLPI shares in a transaction with an enterprise value of $4.1 billion, including assumption of debt. Pinnacle shareholders would receive one share of OpCo common stock and 0.5517 shares of GLPI common stock for each share of Pinnacle they own, for an aggregate value of about $36 per share.
Under the GLPI offer, following the spin-off of OpCo, Pinnacle's real estate assets would be merged into GLPI and OpCo would enter into a mutually agreeable master lease agreement with GLPI.
The transaction is expected to close prior to the end of 2015.
Pinnacle Entertainment shares closed Monday at $31.61, a gain of 15%. Gaming and Leisure shares rose more than 12%, closing at $36.46.
View Comments and Join the Discussion!