Deal On Tehran's Nuclear Activities Makes Iran An Attractive Investment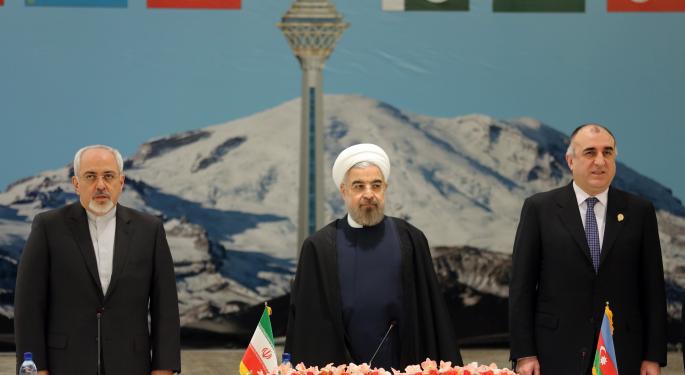 The U.S. and Iran are near to settling a decades old debate over Tehran's nuclear capabilities despite criticism from U.S. policy makers and Israeli leaders that the deal is too lenient.
Though Western diplomats originally called for a 20 year freeze on the country's nuclear development, the two sides are considering relaxing that timeline to just 10 years.
Iran Prepares For The Best
As the conclusion of negotiations between the two nears, Iran is preparing for what it expects to be an influx of investment in the Iranian economy.
With the dispute over Tehran's uranium enrichment activities settled, Iranian businesses are likely to flourish as Western sanctions will no longer weigh on the nation's economy.
In an effort to capitalize on increasing interest, Iran has rolled out its own ETF that will track the nation's stock market.
Iranian ETF
Tehran-based Turquoise Partners has developed the Turquoise TSE 30 Iran Index ETF in order to give foreign investors an easy way to access Iran's market without dealing with the red tape involved in directly investing in Iranian stocks.
Related Link: Markets Asking 'Are We There Yet?' On Oil
Improving Share Markets
Iranian share markets have been historically volatile as sanctions restricted the nation's economic activity and political uncertainty weighed on investor confidence.
However, when President Hassan Rouhani came into power and pledged to put an end to the nation's dispute with the West, share markets responded favorably.
Investment To Climb
A recent policy shift took Iran's markets 27 percent lower in recent weeks, but many are projecting a marked recovery as nuclear talks continue to progress. If a deal is reached this year and the nation's sanctions are lifted, most are expecting to see an influx of foreign money into Iran's market.
Posted-In: Hassan Rouhani Iran ETFNews Politics Global Top Stories ETFs General Best of Benzinga
View Comments and Join the Discussion!