Top Wall Street Executives To Gather At White House Cybersecurity Summit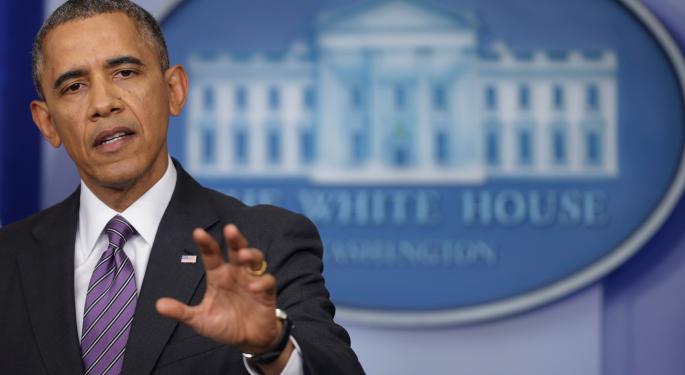 For the first time ever, President Obama has called on best-in-class executives from several sectors to convene at Stanford University on Friday in order to discuss how to move forward with his cybersecurity initiative.
The event is designed to help corporate leaders work together with the government and each other to implement the best practices regarding cybersecurity, consumer protection and data privacy.
Big Names In Attendance
Apple Inc. (NASDAQ: AAPL) will be represented by CEO Tim Cook, who will speak about the company's security measures protecting the new Apple Pay system.
Other notable companies expected to attend include Bank of America Corp (NYSE: BAC), PayPal, Google Inc (NASDAQ: GOOG)(NASDAQ: GOOGL) and Facebook Inc (NASDAQ: FB).
Related Link: Government Push For Cybersecurity Highlights Growing Demand
Government Officials Rub Elbows With Wall Street Elite
The president himself will also be in attendance alongside officials from the Department of Homeland Security, the Secret Service and the Federal Bureau of Investigation.
The National Security Agency (NSA) and the Central Intelligence Agency are slated to be absent from Friday's event.
Obama To Foster Trust On Privacy Issues
Obama's recent creation of a new intelligence agency that will coordinate U.S. efforts to thwart cyber attacks has left the government to depend on private companies to share their massive databases with authorities, but many are reluctant in the wake of last year's NSA leaks and public outcry for more privacy.
The president is expected to use Friday's event to discuss with big name companies how the two can work together to protect consumer privacy, while still sharing vital information in order to protect the U.S. from more security breaches.
Related Link: Fallout From New U.S. Cybersecurity Agency Includes Multiple Hacks
Recent Attacks Make Security A Pressing Issue
In the past months, several high-profile hacking attacks have pushed many corporate leaders to shell out big bucks in order to protect their user data.
The attacks, several of which have been linked to foreign governments, have also raised questions about how the U.S. government should respond to such threats.
View Comments and Join the Discussion!
Posted-In: Apple Pay Cybersecurity department of homeland security Federal Bureau of InvestigationPolitics Top Stories Tech General Best of Benzinga