Eurozone Fractures Grow As Tension Between Athens And EU Simmers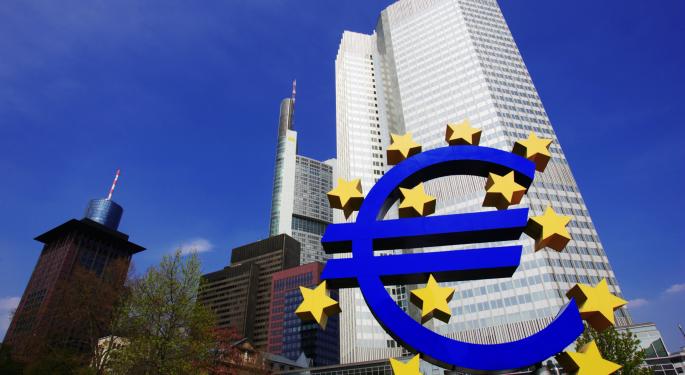 Talks between Greek policymakers and EU officials last week were fruitless as the two sides were unable to come to an agreement regarding the Athens' bailout terms.
Since the Syriza party took office last week, Greece has seen several previous bailout agreements reversed, something the nation's international creditors worry is setting a dangerous precedent.
Athens At Odds With Creditors
Following the meeting, head eurozone finance minister Jeroen Dijsselbloem warned the nation that its financial problems had not been erased by its latest elections, and that acting without the consent of its creditors would not be in its best interest.
Despite that, Greek finance minister Yanis Varoufakis reiterated his plans to depart from the nation's bailout program whether or not the troika of creditors approved.
Greek Markets Sink
The stalemate sent Greek bonds lower, with short term yields climbing above 18 percent.
Banks were also paying a steep price as investors worried that the next round of EU funding would be delayed or canceled, leaving the nation's banks without much needed liquidity.
Related Link: Greece Put On 'Downgrade Watch'
Spain Following In Greek Footprints
Greece wasn't the only eurozone nation whose markets were suffering, the Spanish IBEX declined 2.40 percent on Monday morning as the nation's anti-eurozone movement gained momentum. Syriza's Greek victory has added fuel to Spain's own leftist "Podemos" movement, which held a rally in Madrid over the weekend.
With local elections coming up this spring and Spanish national elections to be held in November or December of 2015, the party is quickly gaining popularity and hoping to replicate Syriza's sweeping victory in Athens.
View Comments and Join the Discussion!
Posted-In: Jeroen Dijsselbloem SYRIZA Yanis VaroufakisNews Eurozone Global Top Stories Markets Best of Benzinga