Why Alibaba's Disappointing Results Might Be A Good Thing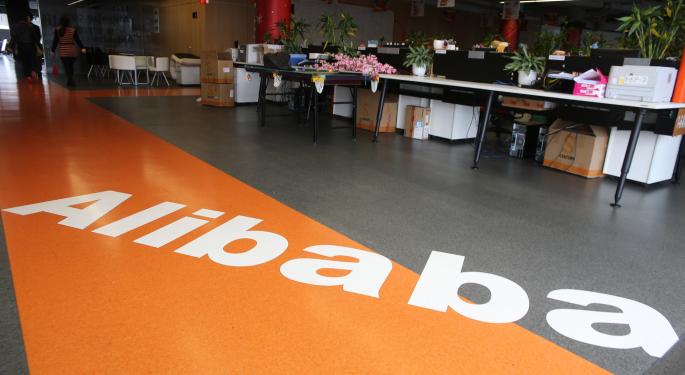 Is there an upside to every situation? Alibaba Group Holding Ltd (NYSE: BABA) investors are likely to say no, but former hedge fund manager Cody Willard was actually happy with the results.
"I was shocked that a China-based company, based in the Cayman Islands and traded in the U.S., didn't massage their numbers enough to blow away Wall Street in their report like this early on since [going] public," Willard, who now serves as chairman of Scutify (a financial social network), told Benzinga.
"My point is, I actually have more confidence in this management now. If they meet their growth targets for this year and next, I think that stock runs 50 percent this year." In the meantime, Willard said that Alibaba failed to achieve the "Apple-esque results" that were needed to ignite the stock.
Related Link: Apple And Alibaba: A Match Made In Heaven?
Gutsy Move
Sean Udall, CIO of Quantum Trading Strategies and author of "The TechStrat Report," made an unusual move and bought a "little" of Alibaba on Wednesday. He thought it had come down enough and expected a positive move. When the stock rose before earnings, he thought had made the right decision.
"I never really liked the deal," Udall told Benzinga. "I did think it was crazy that Alibaba was trading at a larger market cap than Amazon. There's too much enthusiasm and hype and all sorts of things that go with the name. They may grow into the market cap. They may deserve it. But I have been skeptical of Alibaba."
Related Link: Tech Stock Strategist Sean Udall's Take On Apple's Earnings Report
Udall was most troubled by the fact that Alibaba's first report, which took place during the holiday quarter, was a disappointment.
"It's very, very unusual for a company to IPO and then essentially miss the quarter," said Udall. "They did beat on EPS, but they missed the revenues by almost 5 percent."
He added that he couldn't remember the last time a company failed to follow its IPO with a blowout quarter.
"I'm skeptical," Udall continued. "I never liked the name. I should have stuck with my guns. I kind of tried to get cute because I thought it was cheap going into the earnings report. I'm getting taught a lesson today."
Global Expansion?
Udall also spoke about the belief that Alibaba will expand beyond China.
"If you were buying the stock at $115, $120, you effectively had to believe that Alibaba was going to grow outside of China," he said. "I have almost zero belief that Alibaba is going to grow beyond China."
Udall noted that other Chinese companies, such as Huawei, have had a difficult time in the global market.
"The bottom line is [that] Alibaba is a China story," Udall concluded. "If they can justify the valuation of the stock by doing business pretty much in China, maybe they can make a go of it. But I do not believe it will grow significantly beyond its own borders."
Disclosure: At the time of this writing, Louis Bedigian had no position in the equities mentioned in this report.
Posted-In: Cody Willard Huawei Quantum Trading Strategies ScutifyTop Stories Exclusives Tech Trading Ideas Best of Benzinga
View Comments and Join the Discussion!