Comcast Sees A Rocky Road Ahead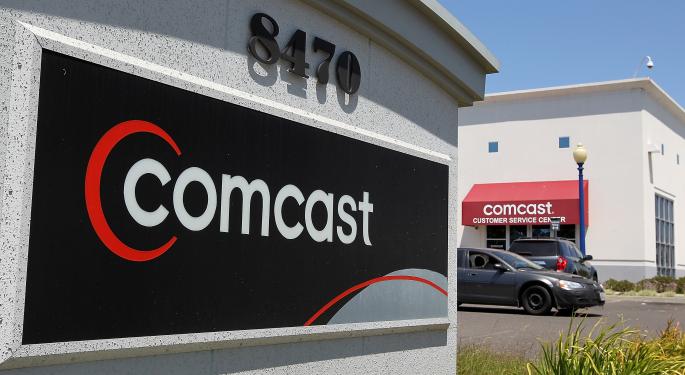 Comcast Corporation (NASDAQ: CMCSA) has gone from being in a position of power to waiting helplessly for a decision from U.S. officials about its future.
The media giant spent $17 million lobbying in Washington last year, the second largest expenditure by a corporate lobbying group. But this year, CEO Brian Roberts' chummy relationship with President Obama has done little to move the company's agenda forward.
TWC Merger
Comcast's plans to acquire Time Warner Cable Inc. (NYSE: TWC) for $45 billion have been put on hold as U.S. regulators decide whether or not the deal would give the company too much power within the sector.
The merger would cement Comcast's position as America's largest cable and internet provider with service to roughly 40 percent of the population.
However, the deal may end up being thrown out by regulators or bogged down by rules that make it unappealing to continue pursuing. The Federal Communications Commission has been evaluating the deal to determine how to proceed, but Comcast says the review is taking much longer than expected.
Net Neutrality Fight
Comcast also has a major stake in the FCC's upcoming decision as to whether or not the internet should be regulated as a public utility. The company's effort to lobby against internet regulation proved futile after Obama said he was in favor of considering the internet as a public utility.
By regulating the internet as a utility, companies like Comcast and AT&T Inc. (NYSE: T) will be bound by rules which they say will inhibit growth.
Related Link: Microsoft Proves To Still Be An Innovator
However, internet based companies like Google Inc. (NASDAQ: GOOG) have taken the opposite view for fear that providers will hold all the cards without protection laws in place.
Unfortunately for Comcast, the Silicon Valley tech crowd has also beefed up its lobbying funds; Google managed to outspend Comcast last year, making it the largest corporate lobbying budget in Washington.
Posted-In: Brian RobertsTop Stories Tech Trading Ideas Best of Benzinga
View Comments and Join the Discussion!