This Predictor Calls For Double-Digit M&A Growth In The First Half Of 2015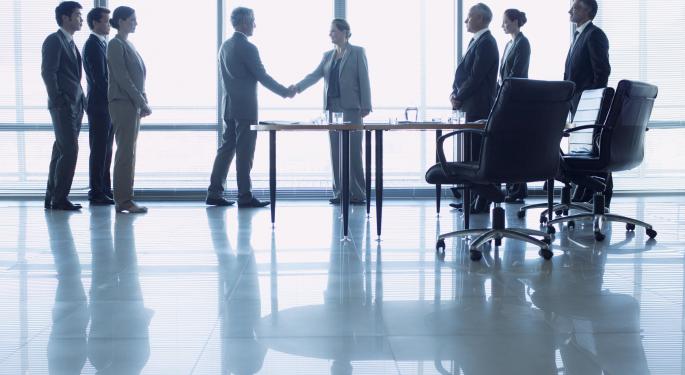 Intralinks Holdings Inc (NYSE: IL) said it planned to release the company's eagerly anticipated Deal Flow Predictor report for Q2 2015 on January 27.
Ahead of that release, Intralinks vice president of M&A strategy and product marketing, Matt Porzio spoke with Benzinga about the report's findings.
According to Porzio, the latest DFP report would show a 1 percent quarter-over-quarter (QoQ) increase and a 12 percent year-over-year (YoY) increase in early-stage global M&A activity for the first half of 2015.
Related Link: Intralinks' Deal Flow Predictor: Positive M&A Momentum Will Continue
Comparison To 2014
Global announced deal volumes for 2014 indicated a 12.5 percent YoY increase, at the top range of DFP's prediction made six months ago, of a 7 to 11 percent increase.
Given that track record, Porzio said, "We're a pretty accurate predictor on a global basis of those announced deals."
Based on activity in the soon-to-be released report, Porzio said, "The volume of global announced M&A in 1H 2015 will be significantly above that of 1H 2014."
He noted that the range of anticipated growth would be between 9 and 15 percent, with 12 percent YoY growth the midpoint.
Decline In Mega Deals
According to Porzio, the number of mega deals announced in 2015 will be fewer than in 2014.
Noting that deals over $5 billion more than doubled YoY in 2014, Porzio said, "I'm not sure you're going to see that same value increase, which was almost 45 percent in the total market."
He added, "You'll probably see smaller deals, more mid-market deals. The volume of deals announced in 2015 will remain high and will grow."
Regional Outlook
From a regional perspective, the outlook – as always – was seen as mixed.
"The U.S. has been the strongest market for a while," Porzio said, "and it really dictates the global M&A market."
"Latin America," he noted, "is still a laggard and it doesn't look like it is going to climb out of the doldrums in the first half of 2015."
According to Porzio, Asia Pacific is interesting because "in many of the emerging markets the pace of deal flow and the ability to have a consistent and less volatile pace of deal flow is often challenged."
Meanwhile EMEA continues to perform strongly and consistently with early-stage M&A activity up 18 percent YoY and 7 percent QoQ.
Global Sentiment Survey
An important and informative part of Intralinks' DFP report is its Global Sentiment Survey of 770 global M&A professionals.
The survey gauges dealmakers' views on the M&A market over a range of topics.
Survey results show that dealmakers remain positive, although their optimism has waned slightly from the previous quarter.
As Porzio put it, "We've seen quarter to quarter increased cautious optimism."
Split Down The Middle
The good news in 2014 has generated, Porzio said, a climate in which "people immediately start to say, 'There's got to be a peak. This isn't going to go on forever.'"
On the other hand, he noted, "Once they start getting active and really start thinking about the merits of the deal that stuff starts to take a back seat."
Related Link: IntraLinks Holdings Inc DealNexus Mobile M&A App Expanded To Feature Full Access
Of Deal Valuation And Suitable Buyers
Deal valuation in the early part of the deal making process – otherwise known as aligning buyer and seller expectations – was seen as a continued major challenge.
In addition, given the fact mid-sized companies can bring numerous buyers to the table, finding a suitable buyer was seen by 43 percent of respondents as the "biggest barrier to getting an M&A deal completed."
A suitable buyer, Porzio said, is not necessarily the one who will beat out the others.
"It's not just about the check," he said. "It's about seeing the business succeed, taking the next step, being integrated and part of that new company."
The full DFP report for Q2 2015 is scheduled for release January 27.
At the time of this writing, Jim Probasco had no position in any mentioned securities.
Posted-In: Asia Pacific EMEA Global Sentiment Survey latin america M&ATop Stories Exclusives Interview Best of Benzinga
View Comments and Join the Discussion!