Benzinga's M&A Chatter for Wednesday January 14, 2015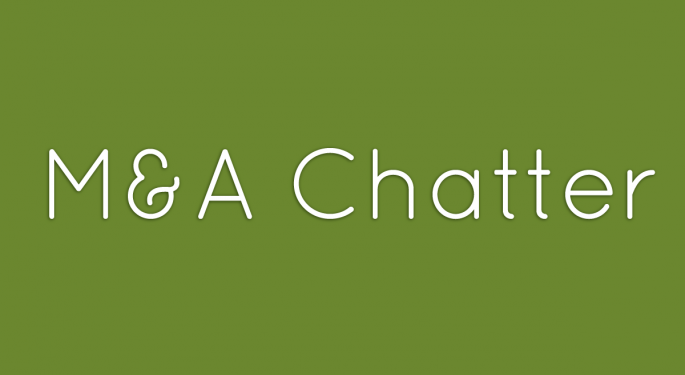 The following are the M&A deals, rumors and chatter circulating on Wall Street for Wednesday January 14, 2015
BGC Raises Contingent All-Cash Tender Offer for GFI Group to $5.60/Share
The Offer:
BGC Partners, Inc. (NASDAQ: BGCP) announced that it has delivered an executed agreement to GFI Group Inc. (NYSE: GFIG) providing an increase in its all-cash tender offer to acquire all of the outstanding shares of GFI to $5.60 per share.
That's $0.15 per share higher than BGC's previous offer and $.35 per share higher than the CME Group Inc. (NASDAQ: CME) cash and stock offer of December 2, 2014.
BGC Partners shares closed Wednesday at $8.40, a loss of $0.20. GFI Group closed down $.05 at $5.45.
Regado Biosciences, Tobira Therapeutics to Merge
The Deal:
Regado Biosciences, Inc. (NASDAQ: RGDO) and Tobira Therapeutics, Inc. announced Wednesday, that privately-held Tobira will merge with a wholly-owned subsidiary of Regado in an all-stock deal. Upon the closing of the transaction, Regado will be renamed Tobira Therapeutics, Inc., under the leadership of Tobira's CEO, Laurent Fischer, M.D.
A Tobira investor syndicate has committed to invest up to $22 million in the combined company. Current Regado shareholders will own approximately 32% of the combined company and current Tobira shareholders will own approximately 68% of the combined company.
Regado Biosciences shares rose 17% Wednesday, closing at $1.01.
Zayo Announces Agreement to Acquire Latisys for $675M
The Deal:
Zayo Group, LLC, a subsidiary of Zayo Group Holdings, Inc. (NYSE: ZAYO) announced Wednesay that it has agreed to acquire the operating units of colocation and infrastructure as a service provider, Latisys Holdings for $675 million.
The transaction is expected to be funded with senior unsecured indebtedness as permitted by existing debt covenants, subject to market conditions, and is expected to close within the current quarter,
Zayo Group Shares gained $0.36 Wednesday, to close at $30.22.
Hearing Unconfirmed Takeover Chatter in US Steel
The Rumor:
Shares of United States Steel Corp. (NYSE: X) rose Wednesday, on renewed takeover chatter. Korea's Posco was the rumored buyer, with a potential bid in the $30's, according to sources.
A spokesperson for U.S. Steel declined comment. U.S. is a frequent subject of takeover rumors.
U.S. Steel Shares lost 2% Wednesday, to close at $22.41.
Report Samsung Discussed Takeover Deal With BlackBerry
The Rumor:
Shares of BlackBerry Limited (NASDAQ: BBRY) spiked sharply higher, following a report from Reuters, that Samsung Electronics Co. Ltd. (OTC: SSNLF) had approached the Canadian handset maker with a takeover bid.
BlackBerry denied talking with Samsung regarding a takeover deal. The company has been the subject in the past of rumors regarding a potential deal with China's Lenovo Group Limited (OTC: LNVGY), but such a deal w
BlackBerry Shares closed at $12.60 Wednesday, a gain of almost 30% and fell below $11.00 after-hours.
View Comments and Join the Discussion!