Benzinga's M&A Chatter for Tuesday January 13, 2015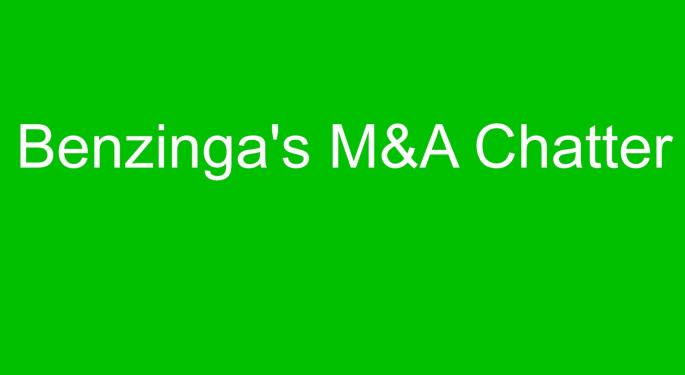 The following are the M&A deals, rumors and chatter circulating on Wall Street for Tuesday January 13, 2015
Smith & Nephew CEO Says 'Not a Fan' of Mergers; Declines Comment on Rumor of Stryker Bid
The CEO Comments:
Shares of Smith & Nephew plc (NYSE: SNN) moved lower Tuesday, as CEO Olivier Bohuon said he was not a fan of big M&A deals and had decided not to follow to this path, as reported by Reuters. Bohuon was speaking at the JPMorgan Healthcare conference and declined to comment directly on the recent rumor of a potential bid from Stryker Corp. (NYSE: SYK). Rumors of potential deal between the two companies have persisted since last summer.
Smith & Nephew shares closed Tuesday at $35.07, a loss of 2.5%.
Textron Specialized Vehicles Acquires Douglas Equipment
The Deal:
The Textron Specialized Vehicles group of Textron Inc. (NYSE: TXT), through Textron Ground Support Equipment UK Limited, has acquired the Douglas Equipment business from Curtiss-Wright Corporation (NYSE: CW). Terms were not disclosed.
Textron shares rose $0.29 Tuesday, closing at $42.43.
SunCoke Energy Partners Completes Acquisition of 75% Interest in Granite City Cokemaking Facility for $245M
The Deal:
SunCoke Energy Partners, L.P. (NYSE: SXCP) entered into a contribution agreement with its sponsor, SunCoke Energy, Inc. (NYSE: SXC) Tuesday, to acquire a 75% interest in SXC's Granite City, Ill., cokemaking facility for a total transaction value of $245 million.
Terms of the deal have been approved by the Conflicts Committee of our general partner's Board of Directors.
SunCoke Energy Partners Shares lost $0.13 Tuesday, to close at $26.65.
View Comments and Join the Discussion!
Posted-In: M&A News Rumors Asset Sales Management