Benzinga's M&A Chatter for Monday January 12, 2015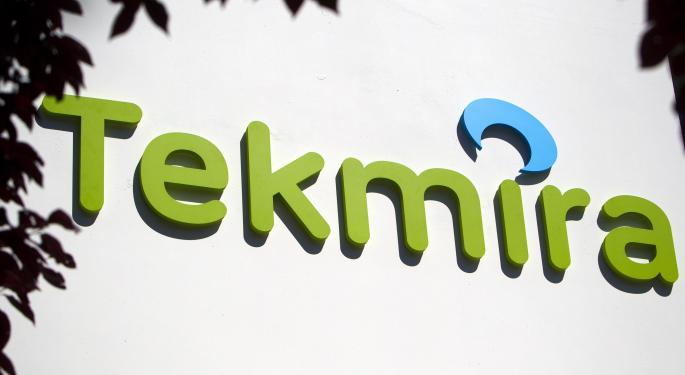 The following are the M&A deals, rumors and chatter circulating on Wall Street for Monday January 12, 2015:
Tekmira Pharmaceuticals, OnCore Biopharma Announce Merger Agreement
The Deal:
Tekmira Pharmaceuticals Corporation (NASDAQ TKMR) and OnCore Biopharma, Inc., announced Monday, the two companies are merging. Upon closing of the transaction the stockholders of OnCore will hold approximately 50% of the total number of outstanding shares of capital stock of Tekmira, calculated on a fully-diluted and as-converted basis using the treasury stock method.
The deal is expected to close in H1 of 2015.
Tekmira shares closed Monday at $24.68, a gain of 57%.
Roche to Acquire Up to 56.3% Stake in Foundation Medicine for $1.03B
The Deal:
Shares of Foundation Medicine, Inc. (NASDAQ: FMI) soared 150% in the premarket Monday, following news that Roche Holding AG (OTC: RHHBY) will invest $250 million at $50 per share for $5 million shares, to fund its operations and development. Roche will also commence a tender offer at $50 per share, which will result in Roche owning between 52.4% and 56.3% of Foundation Medicine on a fully diluted basis.
The deal is expected to close in Q2 of 2015.
Foundation Medicine shares rose 95% Monday, closing at $46.74.
AmerisourceBergen to Acquire MWI Veterinary Supply for $190/Share in Cash
The Deal:
AmerisourceBergen Corporation (NYSE: ABC) and MWI Veterinary Supply, Inc. (NASDAQ: MWIV) announced that they have agreed that AmerisourceBergen will acquire MWI Veterinary Supply (MWI) for $190.00 per share in cash.
AmerisourceBergen will commence a tender offer no later than January 26, 2015, to acquire all outstanding shares of MWI common stock.
MWI Veterinary Supply Shares gained 8% Monday, to close at $190.
Hearing Activision May Offer $22/Share for King Digital
The Rumor:
Shares of King Digital Entertainment plc (NYSE: KING) spiked higher Monday on unconfirmed market chatter of a potential bid from Activision Blizzard, Inc. (NASDAQ: ATVI). According to a source, Activison could offer $22.00 per share for the publisher of Candy Crush Saga.
Spokespersons for the companies did not respond to requests for comment. King Digital has recently experienced heavy call activity.
Kng Digital shares closed Monday at $13.74, up $0.16.
Report Twitter in Talks to Acquire ZipDial
The Rumor:
Twitter is in talks to acquire startup ZipDial, according to TechCrunch. Sources the deal may have already closed, and is in the region of $30 million to $40 million.
Twitter shares closed Monday at $13.74, up $0.16.
View Comments and Join the Discussion!