Is The Eurozone Readying For A 'Grexit'?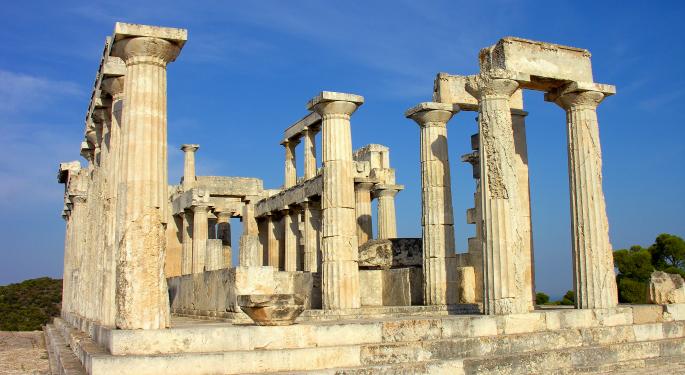 With just two weeks to go until Greece is set to hold its national elections, the radical leftist Syriza party led in the polls over the weekend. The world has been watching developments in the tiny Eurozone country because, despite its size, Greece may make waves if the party comes into power.
Syriza's Pledge
The party has promised to review the terms of Greece's bailout program and demand a debt write-off from the country's lenders. In doing so, many believe Syriza will be taking the first steps toward Greece's eventual exit from the Eurozone.
Though a "Grexit" is still only one possible outcome, many are already beginning to prepare for the fallout. German officials released statements earlier this month saying that the bloc would survive without Greece as a member, though German Chancellor Angela Merkel's office said the conditions of Greece's loan repayment may be relaxed if the bailout continues.
Related Link: What The Market Is Reading: ECB Deflation, David Vs. Goliath & More
Germany ha been firmly against a write-off, but has shown signs of softening its position with the possibility of a "Grexit" on the table.
Banks To Be Hardest Hit
Banks operating in the Eurozone are battening down the hatches in case of a Greece exit, as the financial sector would likely be the hardest hit. Despite the fact that most believe a withdrawal from the currency union is unlikely even if Syriza take power, Eurozone banks are no stranger to hard times and have begun to prepare for the worst.
The Wall Street Journal reported that Citigroup Inc (NYSE: C) and Goldman Sachs Group Inc (NYSE: GS) are looking into the impact a "Grexit" would have on cross-border funding. Others are analyzing how the addition of a Greek currency would impact their payment systems and trading platforms, in order to prevent a breakdown.
Loss Of Confidence
Probably the most worrisome issue for companies operating in the Eurozone is the domino effect that a Greece exit could have on the Union as a whole.
Although the region's policymakers have said they can cope with Greece leaving the Eurozone, some economists believe that Greece leaving would be the beginning of the end for the bloc as a whole.
One nation's exit could set a precedent and make it easier for others to follow, so the real issue is this: The "Grexit" could cause a loss of confidence in the region.
Image credit: X-Weinzar, Wikimedia
View Comments and Join the Discussion!
Posted-In: Angela Merkel Grexit The EurozoneEurozone Markets Best of Benzinga