Benzinga's M&A Chatter for Monday January 5, 2015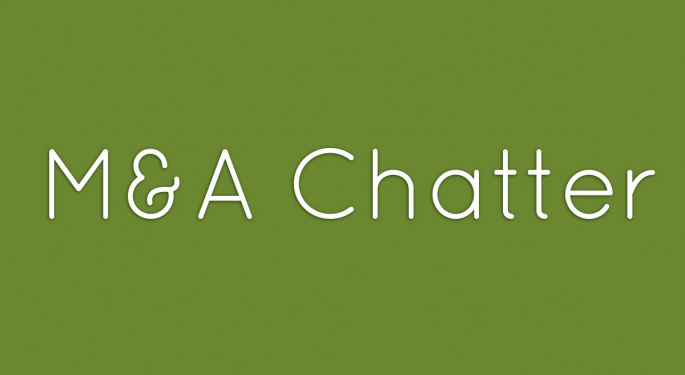 The following are the M&A deals, rumors and chatter circulating on Wall Street for Monday January 5, 2015
Sources Say NPS Pharmaceuticals Seeking Buyer
The Rumor:
Shares of NPS Pharmaceuticals, Inc. (NASDAQ: NPSP) surged higher Monday, on a report from Dow Jones that the biopharmaceutical company is seeking a buyer and has hired Goldman Sachs as an advisor. According to sources, a sale could bring $4.5 million.
Back in June 2014, NPS was rumored to be a target of Shire plc (NASDAQ: SHPG).
A spokesperson for NPS Pharmaceuticals declined comment on the rumor. A Shire spokesperson did not immediately respond to a request for comment.
NPS Pharmaceuticals shares closed Monday at $38.15, a gain of 6.5%.
NeuLion to Acquire DivX for $62.5M
The Deal:
NeuLion, Inc. (OTC: NEUL) has agreed to acquire DivX for approximately $62.5 million, consisting of $37.5 million in shares of NeuLion common stock and a $25 million two-year convertible note, subject to working capital adjustments.
The deal is expected to close in Q1 of calendar 2015.
Ingersoll Rand Acquires Assets Of Cameron's Centrifugal Compression Division for $850M
The Deal:
Ingersoll-Rand plc (NYSE: IR) announced Monday it has completed the acquisition of the assets of Cameron International Corporation's (NYSE: CAM) Centrifugal Compression division for $850 million. The deal was completed on January 1, 2015.
Ingersoll Rand shares closed Monday at $62.16, a loss of $1.10.
Facebook Acquires Wit.ai
The Deal:
Speech recognition software company wit.ai, confirmed on its blog Monday, that it has been acquired by Facebook, Inc. (NASDAQ: FB). Terms were not disclosed.
Faceboook shares closed Monday at $77.19, a loss of $1.26.
View Comments and Join the Discussion!