Tradesports: Investing In Sports Like Investing In Stocks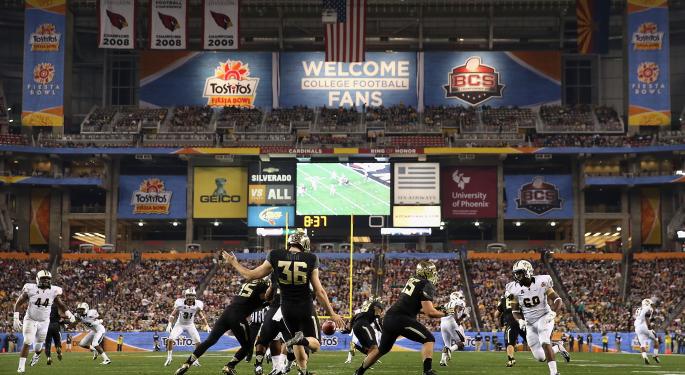 How do active traders and investors spend their day off? Watching and wagering on sports is one way. A majority of sports fans can probably you tell more about their favorite team than they can the composition of their investment portfolio.
As the markets have evolved over the years, so has the world of sports wagering. In the past, one only needed to contact the local bookie and place a phone call to get updated on the current lines and place a wager. Someone could also just find a friend, relative or co-worker to place a "friendly" wager with on a game.
The Explosion Of Fantasy Sports
Many of the traditional forms or wagering (versus the spread, over-under) have been supplanted by the world of fantasy sports. Its earliest roots can be traced to the development of Rotisserie League Baseball in the late 1970s and early 1980s. It has mushroomed into a much bigger phenomena during the dot.com era in the early 2000s.
Related Link: Jim Harbaugh Comes Back To Michigan, For Peanuts
Instead of a group of friends gathering together for a draft party, millions of players can be connected with each other through the Internet, turning a parochial event into a worldwide one.
So what happens if you combine the traditional and most popular forms of wagering and fantasy sport enthusiasts with the Internet?Tradesports.com is one answer.
Investing In Sports
Tradesports is positioning itself to rival other popular fantasy sites such as Draft Kings and FanDuel. Tradesports.com Director of Content, Dan Karpuc, was recently on Benzinga's #PreMarket Prep.
Karpuc explained that his site features "daily event-based fantasy sports contests in which users can make predictions rather than dealing with the line-ups or salary cap restrictions like the that other sports fantasy sites feature."
He went on to explain how on the site, participants can engage in head-to-head competition or join of group of up to 100 participants for a particular event. A participant can play for as little or $2 or as much as $1,000 per event. A vigorish or "vig" (commission) of 10 percent of the wager is paid to the company as compensation for access to the site.
Portfolio Of Sports Predictions
This is how Tradesports works: for each event, a participant is given $50,000 (fantasy dollars) to allocate on an event. Prior to game time of each event, each player must decide how to invest his or her shares among the four of seven given propositions for each event. A minimum of 100 shares needs to be placed in each of the four chosen categories. They are always "yes" or "no" answers and will have a designated probability value (or share price of 0 to 100) assigned to it based on the chance of that event occurring.
If the chosen proposition comes true, the contract expires at 100; if not, it expires at 0. The cumulative profit and loss of the portfolio is then calculated depending on each player's asset allocation. The player with the most valuable portfolio is the winner of the contest and takes home a portion of the entire pool.
With bowl season and the NFL playoffs kicking into gear, traders and investors may very well be testing their investing skills in the sports prediction market.
Posted-In: Dan Karpuc Fantasy FootballEntrepreneurship Topics Top Stories Exclusives Tech General Best of Benzinga
View Comments and Join the Discussion!