Benzinga's M&A Chatter for Tuesday December 23, 2014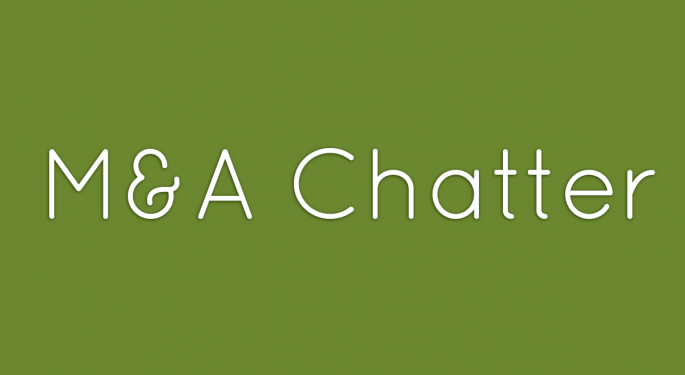 The following are the M&A deals, rumors and chatter circulating on Wall Street for Tuesday December 23, 2014
Stryker Said Planning Takeover Bid for Smith & Nephew Within Weeks
The Rumor:
Shares of Stryker and Smith & Nephew spiked higher Tuesday on a report from Bloomberg that Stryker could be making a bid soon for SNN.
Spokespersons for both companies declined comment on the rumor.
Smith & Nephew shares closed Tuesday at $38.04, a gain of 9%. Stryker shares gained $1.62 to close at $96.61.
Safeway Closes Sale of PDC Assets to Terramar for ~$830M; SWY Holders to Receive $2.45/Share Plus CVR
The Deal:
Safeway Inc. (NYSE: SWY) announced Tuesday, that it has completed the sale of the shopping center and real estate development assets owned by its wholly-owned subsidiary, Property Development Centers to Terramar Retail Centers for approximately $830 million. Safeway shareholders will also receive a contingent value right at the closing of the merger with Albertsons.
Safeway estimates that, in addition to the $32.50 cash per share to be paid at the closing of the merger, stockholders will receive a cash payment of $2.38 per share from the initial net proceeds of the PDC sale, as well as the PDC CVR and a second CVR relating to Safeway's 49% interest in Casa Ley, S.A. de C.V.
Safeway shares closed Tuesday at $35.08, up 1%.
Family Dollar Shareholders Voted to Adjourn Meeting Prior to Merger Vote
The Adjournment:
Family Dollar Stores, Inc. (NYSE: FDO) announced Tuesday, that the special meeting of stockholders to vote on its proposed merger with Dollar Tree, Inc. (NASDAQ: DLTR), was adjourned prior to taking a vote on the merger. There were insufficient votes to adopt the proposed merger with Dollar Tree.
The special meeting was adjourned until 9:00 AM local time on January 22, 2015. Family Dollar shareholders adopted the adjournment proposal by a vote of approximately 72 million shares to 15 million shares.
Separately, Dollar General Corporation (NYSE: DG) announced that it was extending its tender offer to acquire all outstanding shares of Family Dollar Stores for $80.00 per share in cash until 5:00 PM, New York City time, on January 30, 2015, unless further extended.
Family Dollar shares closed Tuesday at $79.15, a gain of $0.04. Dollar General shares gained $0.89 to close at $69.55 and Dollar Tree closed at $70.06, up $0.97.
View Comments and Join the Discussion!