Benzinga's M&A Chatter for Monday December 22, 2014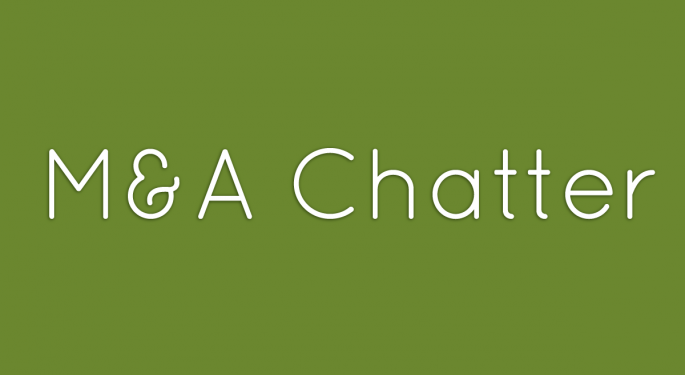 The following are the M&A deals, rumors and chatter circulating on Wall Street for Monday December 22, 2014
Oracle Acquires Datalogix, Terms Not Disclosed
The Deal:
Oracle announced Monday, that it has agreed to acquire audience data company, Datalogix. Terms of the transaction were not disclosed.
Oracle shares closed Monday at $45.65, a loss of $0.35.
Caesars Entertainment, Caesars Acquisition Co. to Merge
The Deal:
Caesars Entertainment Corporation (NASDAQ: CZR) and Caesars Acquisition Company (NASDAQ: CACQ) announced Monday, that they have entered into a definitive agreement to merge in an all-stock transaction. Under the terms of the merger agreement, and subject to the overall restructuring of CEOC, regulatory approval and other closing conditions, each outstanding share of Caesars Acquisition class A common stock will be exchanged for 0.664 share of Caesars
Entertainment common stock, subject to adjustments set forth in the merger agreement. Caesars Entertainment stockholders will own approximately 62% of the combined company on a fully-diluted basis and Caesars Acquisition stockholders will own approximately 38%.
Caesars Entertainment shares closed Monday at $15.00, up 11%. Caesars Acquisition Company shares gained 3%, to close at $9.76
Carlyle Group, Warburg Pincus to Acquire DBRS
The Deal:
The Carlyle Group (NASDAQ: CG) and PE firm Warburg Pincus announced Monday, they have agreed to acquire global credit rating agency DBRS. Terms of the transaction were not disclosed.
The deal is expected to close in Q1 of 2015.
Carlyle Group shares lost 2% Monday, to close at $26.86.
Peerless Systems to be Acquired by Mobius Acquisition for $7.00/Share in Cash
The Deal:
Peerless Systems Corporation (NASDAQ: PRLS) reported Monday, that it has agreed to be acquired by Mobius Acquisition, LLC for $7.00 per share in cash, pursuant to a cash tender offer and second step merger. Under the terms of the agreement, Peerless shareholders will receive $7.00 per share in cash for each share of Peerless common stock.
Peerless expects the deal to close in February or March 2015.
Peerless Systems shares gained 1% Monday, to close at $5.29 and traded at $6.72 after-hours.
American Apparel Board Confirms Interest to Purchase Co. for $1.30-$1.40/Share
The Offer:
The American Apparel (NYSE: APP) Board of Directors confirmed Monday, they had received an indication of interest to acquire the company at $1.30 to $1.40 per share. The Board indicated they would review the offer.
The offer was first rumored by the NY Post last Thursday. Reuters reported later on Monday, that a source close to the Board had said that $1.40 was not a high enough offer.
American Apparel shares gained 6.5% Monday, to close at $1.14.
View Comments and Join the Discussion!