What CEOs Are Saying About Washington Politics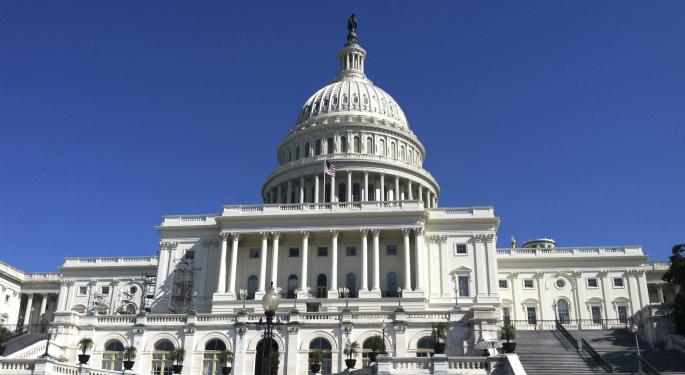 Privately, CEOs are probably like most people, fed up with gridlock in Washington and feeling somewhat powerless to do anything about it.
Based on the "polite declines" Benzinga received when reaching out to several corporate leaders for comment, however, many preferred to keep their public comments private.
Related: What A Zombie Movie And Washington Have In Common
One Exception
One exception was Starbucks Corporation (NASDAQ: SBUX) CEO, Howard Schultz, who put Washington DC on notice Nov. 9 when he said, "Washington has let the country down," adding that he wanted to see "civility and conversation and cooperation."
The remarks came in an appearance on NBC's "Meet the Press."
There Schultz said, "If we don't get that in the next 30 days, the business community is going to do what they've done for the last 10 years: dismiss Washington."
Other Opinions
The notion that some movers and shakers in business express opinions about politicians isn't new. CNN Money presented a mash-up of CEO government critiques last year at the beginning of the government shutdown.
Commenters included Lloyd Blankfein, Chairman & CEO of Goldman Sachs Group, Inc. (NYSE: GS), who said, "There's a precedent for a government shutdown. There's no precedent for default."
"These are guys who are acting like robots," said former General Electric Company (NYSE: GE) CEO Jack Welch, adding that they "don't talk, don't schmooze, don't have a beer together and don't hang out."
"It's wrong!" exclaimed Welch.
Alcoa Inc. (NYSE: AA) CEO, Klaus Kleinfeld added, "At a time when the economy is just in the course of recovering here in the U.S. the last thing we need is those type of disruptions "
Not All Negative
Some executives are more hopeful and encouraging. For example, Jim O'Hara, President of e-commerce startup, Ecwid told Benzinga:
"We have seen and applaud Washington politicians who trumpet the innovation, entrepreneurship and job creation driven by small businesses."
Ecwid's primary product is an online app that lets merchants create website stores almost anywhere including websites, mobile phones, social sites and marketplaces such as Google Shopping.
Related: How President Obama's Net Neutrality Proposal Can Affect ETFs
Is Washington Listening?
In a session with members of the Business Roundtable Dec. 3, President Obama said he wanted to "engage on some tricky questions" about overcoming stagnant wages, among other issues.
Douglas Oberhelman, CEO of Caterpillar, Inc. (NYSE: CAT), told the president infrastructure, immigration, tax reform and trade were "sweet spots" for corporations.
In the Q&A portion of the session, which lasted about 80 minutes, the president was described as sometimes "blunt" and at others "obliging."
After defending government regulations, for example, the president invited members of the roundtable to create a list of regulations to which they objected the most.
Among the topics he said he felt Democrats and Republicans could find common ground, Obama cited tax reform, public works and immigration.
At the time of this writing, Jim Probasco had no position in any mentioned securities.
View Comments and Join the Discussion!
Posted-In: Alcoa Inc. Benzinga Business Roundtable Caterpillar cnn moneyPolitics Interview General