Morgan Stanley's Top International Mining Stocks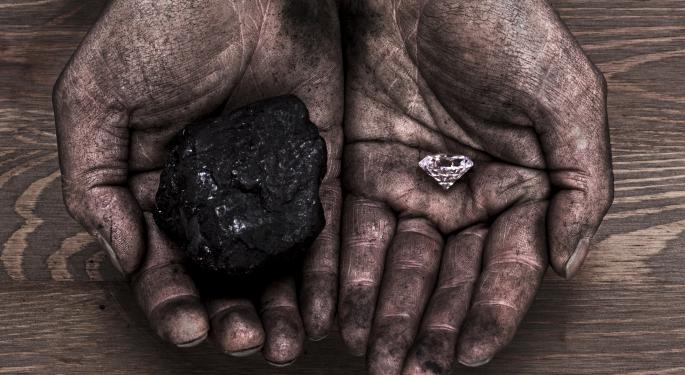 In a recent report, Morgan Stanley released its top stock picks in the international mining sector. Not all stocks sell on American exchanges, but Morgan Stanley provides reasons to go shopping abroad for each of these six companies.
New Boliden (Price target: +3 percent)


This Swedish mining and smelting company focuses on copper, zinc, lead, gold and silver. Morgan Stanley sees upside potential in New Boliden due to higher copper treatment and refining charges and a deployment of cash to higher-returning mining businesses.
AK Alrosa OAO (Price target: +6 percent)
This Russian company specialized in the exploration, mining, manufacture, and sale of diamonds. The report identifies the for AK Alrosa OAO potentially spurring improved free cash flow to equity (FCFE)due to capex peaks in 2014 and a weaker ruble.
Fresnillo (Price target: +31 percent)


This Mexican mining company is the world's largest producer of silver from ore and is Mexico's second-largest gold producer. Morgan Stanley sees upside in Fresnillo due to more active capital management by the company, strong gold and silver prices and a depreciating peso.

Rio Tinto plc (ADR) (NYSE: RIO)(Price target: +34 percent)

This London-based multinational metals and mining corporation is a worldwide leader in production of aluminum, iron ore, copper, uranium, coal, and diamonds. Morgan Stanley likes Rio Tinto because of its high-quality, low-cost iron ore assets and other large, expandable, long-life assets.

GMK Nori'lskiy nikel' OAO (ADR) (OTC: NILSY) (Price target: +36 percent)

Noril'skiy specializes in nickel and palladium mining and smelting. The report credits the Russian company for its attractive commodity basket, its exposure to a depreciating ruble, its recent operational reconfiguration and its capex efficiency.

BHP Billiton plc (ADR) (NYSE: BBL) (Price target: +48 percent)

Morgan Stanley sees a nearly 50 percent upside for its top pick, the Australia-based company that claims the title of the world's largest mining company. Morgan Stanley praises BHP Billiton's strong balance sheet, diversified commodities exposure, stable earnings and large, expandable, long-life assets.
Related Link: Russian Ruble Hits A Record Low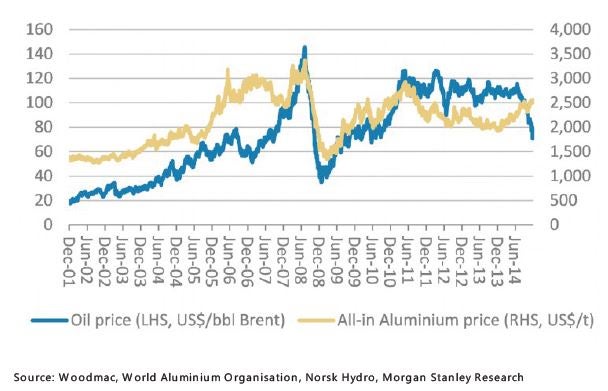 Aside from stock picks, the report also includes a warning about the future of aluminum prices due to a recent decoupling of aluminum prices and plummeting oil prices. The prices of the two commodities have historically had a high correlation.
Posted-In: CommoditiesGuidance Price Target Commodities Global Markets Analyst Ratings Best of Benzinga
View Comments and Join the Discussion!