Black Sabbath: Why Black Friday Is No Longer Retailer's Holy Grail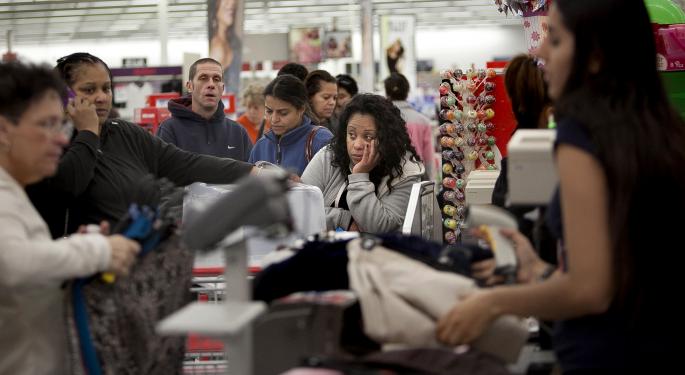 Black Friday and Cyber Monday 2014 have made their annual debut and now the spin on the results begins.
The Friday after Thanksgiving known as 'Black Friday,' was once an ACTUAL day, when retailers found their balance sheets went from "the red' ostensibly negative revenues to 'the black' or positive revenues.
Often perceived by many as the busiest and most important shopping day of the year, Black Friday has really morphed into "Fifty Shades of Grey" for retailers—and not in a good way--although consumers might want a blindfold for this one.
It is not well understood by some investors—AND retailers— that Black Friday now merely represents a ceremonial traffic spike kicking off the holiday shopping season as opposed to the inflection point in the annual fortunes of merchants that it once was.
However, early results indicate that sales, both in stores and online, from Thanksgiving through the weekend were estimated to have dropped 11 percent, to $50.9 billion, from $57.4 billion last year, according to preliminary survey results released Sunday by the National Retail Federation who still seems to have developed a stutter after its glowing prediction of a 4.1 percent increase in holiday retail sales this November and December, compared to 3.1 percent last year.
The irony is that these retail wounds are self-inflicted.
A tectonic shift has occurred in consumer behavior and it seems retailers are the last to know. By stretching out the holiday from a one day affair to a three month process, merchants have diluted the very customer base they are trying to attract.
Moreover, consumers shop when THEY want, not when merchants beckon them. Hence the rise of OMNICHANNEL strategies at retailers that allow seamless shopping from handheld to tablet to store and back.
Macy's (NYSE: M) thus far has been extremely successful in implementing this strategy.
However, even Terry Lundgren the lone Unicorn of Retail Merchants, even lowered guidance for the rest of the quarter.
Mr. Lundgren is a merchant guru—if he tempers his outlook—he sees something you don't. However, the bulk of the rest seem to have missed the email that shoppers need not venture far from the couch on Black Friday—or Grey Thursday-or Charcoal November—to make holiday purchases.
Moreover shoppers have been trained to shop on discount only. If it's not deep enough—just wait a week. We don't need a call to action.
And then there's Wal-Mart (NYSE: WMT).
How did Wal-Mart pull off Black Friday? Are consumers trading down? Again? Not necessarily. Aside from having access to vast real time data on their consumers, be mindful that $WMT has multiple revenue streams.
Not only merchandise but SERVICES.
The Money Center: Banking in store, Check cashing, Auto Insurance, Prepaid debit cards, money transfers. Whatever its guests need—it provides-usually before they know they need it.
With a sustained period of job gains and the impressive drop in retail gas prices that may inject roughly $85 billion into household coffers in the U.S.
One can crack all the jokes about the PEOPLE OF Wal-Mart. Funny thing is they might just save Christmas.
Posted-In: Black Friday Terry LundgrenNews Retail Sales Top Stories Best of Benzinga
View Comments and Join the Discussion!