Blackstone Group Expands In Europe While A Huge U.S. Portfolio Is Reportedly Sold
Alternative asset management firm The Blackstone Group L.P. (NYSE: BX) has a $81 billion portfolio of global real estate assets under management.
Blackstone's latest real estate moves appear to work in tandem: realizing accrued profits in the U.S. industrial sector while increasing exposure to Western Europe -- adding to its already significant retail holdings.
European Retail Expansion
On Monday, December 1, Blackstone announced that its Blackstone Real Estate Partners Europe IV had agreed to purchase 14 retail shopping centers located in the Netherlands from a Dutch Retail Fund affiliated with CBRE Global Investors.
Related Link: Blackstone Files A New Real Estate IPO: Should Investors Be Excited?
CBRE Global Investors is an independently operated affiliate of CBRE Group Inc (NYSE: CBG). CBRE Global manages more than $88 billion in assets worldwide and is able to leverage the 44,000 employees of the CBRE Group full-service commercial real estate network located to help create value for investors.
These 14 retail centers will be operated by Multi Corporation, which is headquartered in the Netherlands. Multi is Blackstone's European retail platform and owns about 70 shopping centers. Multi is active in 12 countries, including: Belgium, Czech Republic, Germany, Italy, Poland, Portugal, Slovakia, Spain, Ukraine, the United Kingdom and Turkey.
The sales price for this approximately 1.16 million square foot retail portfolio was not mentioned in the joint announcement posted on the Blackstone website.
Blackstone Decides To Sell U.S. Industrial Portfolio
It looks like REIT investors are not going to get a chance to buy into the large portfolio of U.S. industrial assets that Blackstone has strategically assembled since 2010 after all.
It was just this past September when Blackstone filed a registration statement with the SEC for its proposed IndCor Properties, Inc. REIT IPO.
However, in a late breaking report on December 1, it was reported by the Wall Street Journal that an Asian group, including GIC Pte. Ltd. and Singapore's Global Logistic Properties Ltd (OTC: GBTZF), had agreed to purchase the IndCor industrial portfolio from Blackstone for $8.1 billion.
What Is Blackstone Selling?
Back in 2010, after the real estate bubble burst and debt financing was still relatively difficult to come by, Blackstone began to assemble its U.S. industrial portfolio. IndCor was seeded by purchasing 180 properties from Prologis Inc (NYSE: PLD) along with an additional 75 properties from a Prologis/Eaton Vance Corp. joint venture.
Several additional portfolio purchases from a variety of sellers between 2012 and January 2014 combined to create a more geographically diverse collection of properties.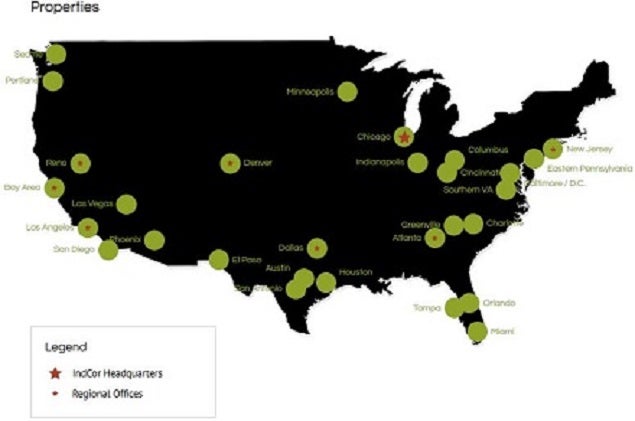 In late February 2014, IndCor announced its final large portfolio purchase of 9.6 million SF on industrial facilities primarily located in Austin, Dallas, San Antonio, Denver, Portland and Los Angeles, along with 185 acres of entitled industrial land located in Texas. This resulted in the current IndCor portfolio consisting of approximately 118 million SF located in 29 key markets spread across 23 states.
Investor Takeaways
It should come as no surprise to investors who have followed Blackstone's real estate strategy of "Buy It, Fix It, Sell It," that the firm is choosing to exit this investment near the top of the market.
Related Link: U.S. Industrial REITs: An Island Of Strength Within A Sea Of Red Ink
It is notable that publicly traded industrial REITs all traded near 52-week highs in November, after showing exceptional relative strength during the broader market retreat in the first half of October.
The proposed IndCor Properties REIT IPO was likely going to raise about $1 billion in equity, valuing the entire business at about $8 billion.
However, the fact that Blackstone has decided to exit this asset class entirely -- rather than go the IPO route and operate IndCor Properties as a REIT-- could be a signal to investors that market beating performance from the U.S. industrial sector may become more difficult to achieve moving forward.
Posted-In: GIC Global Logistic Properties Ltd. IndCor PropertiesREIT Asset Sales General Real Estate Best of Benzinga
View Comments and Join the Discussion!