Benzinga's Weekend M&A Chatter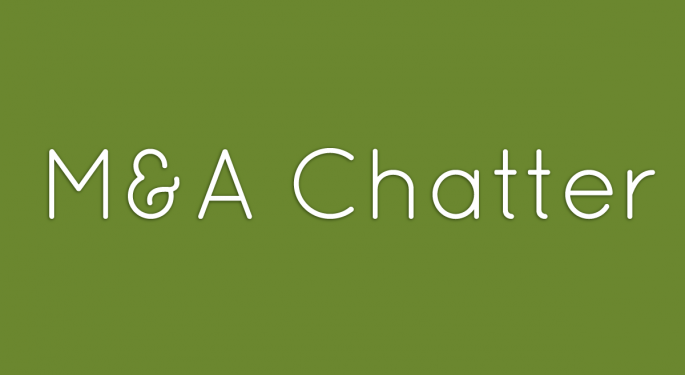 The following are the M&A deals, rumors and chatter circulating on Wall Street for Friday November 21, through Sunday November 23, 2014:
CBS, Lionsgate Said to be Eyeing Starz Deal
The Rumor:
Starz (NASDAQ: STRZA) is getting attention from CBS Corporation (NYSE: CBS) and Lions Gate Entertainment Corp. (NYSE: LGF), according to a report from the NY Post. Sources say the pay-TV channel is said to be seeking approximately $5 billion, which would equate to a share price of approximately $48.00. Starz market cap at the close of trading on Friday was $3.3 billion.
In September, The Wall Street Journal reported the company controlled by John Malone, met with Twenty-First Century Fox, Inc. (NASDAQ: FOXA), though Fox had no real interest in a deal.
The Post reports that spokespersons for Starz, CBS and Lionsgate declined comment.
Starz closed Friday at $32.20, a gain of 1%.
President, More Rumors Boost BlackBerry Shares
The Rumor:
Shares of BlackBerry Limited (NASDAQ: BBRY) showed strength Friday, partly due to its most famous U.S. customer, President Obama, forgetting his, and returning to the White House to retrieve it, and then some additional chatter regarding the Canadian smart phone maker. Obama yelled out to reporters "I forgot my Blackberry."
On the rumor front, a person familiar with the matter told Benzinga on Friday, that Samsung is in talks with BlackBerry, in addition to Lenovo Group Limited (OTC: LNVGY), regarding a potential acquisition. He was not able to elaborate, but said that Samsung was in a much stronger position than Lenovo to make a deal.
A spokesperson for BlackBerry told Benzinga they could not respond due the fact the company was in a "quiet period". BlackBerry reports earnings on December 19.
BlackBerry shares gained almost 2% Friday, to close at $10.24.
Visteon to Sell Stake in Halla Visteon for ~$3.6B
The Rumor:
Visteon Corporation (NYSE: VC) is prepared to sell its 69.99% stake in its South Korean unit, Halla Visteon Climate Control Corp, to private equity firm Hahn & Co, reports Korea Economic Daily, via Reuters. The sale price is said to be approximately $3.6 billion, according to a source.
Visteon Corporation closed Friday at $97.12, a loss of $0.47.
View Comments and Join the Discussion!