Benzinga's Weekend M&A Chatter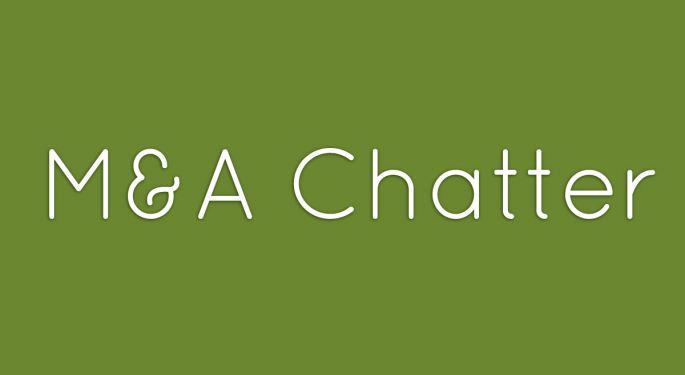 The following are the M&A deals, rumors and chatter circulating on Wall Street for Friday November 14 through Sunday November 16, 2014:
Baker Hughes Receives Director Nominations from Halliburton, Talks Stall
The Talks:
Baker Hughes Incorporated (NYSE: BHI) announced Friday, it receieved notice from Halliburton Company (NYSE: HAL) that it intends to nominate candidates to replace the entire board of directors of Baker Hughes at its April 2015 annual meeting. That comes following confirmation from Baker Hughes on Thursday of a WSJ report that it was in preliminary talks with Halliburton Company regarding a potential merger. Baker Hughes received an unsolicited proposal from Halliburton on October 13.
On Friday, WSJ reported that the merger talks had stalled, citing sources. Baker Hughes CEO Martin Craighead said he was disappointed Halliburton sought to replace the entire board.
Baker Hughes shares gained 2% Friday, to close at $58.89, but lost 2% after-hours. Halliburton shares gained 2.5% to close at $55.08.
Hearing Sequential Brands Has Approached Perry Ellis Related to a Deal
The Rumor:
Perry Ellis International Inc. (NASDAQ: PERY) has reportedly been approached by Sequential Brands Group Inc. (NASDAQ: SQBG), according to a report Friday from WSJ. The source reports the status of the discussions is not known and no deal is assured.
Perry Ellis shares closed at $23.58 Friday, a gain of 2.75%, while Sequential Brands shares rose 3.5%, to close at $13.00.
Hasbro Talks to Acquire DreamWorks Animation Reportedly have Ended
The Rumor:
Talks between Hasbro Inc. (NASDAQ: HAS) and DreamWorks Animation SKG Inc. (NASDAQ: DWA) have apparently stalled and are unlikely to resume, according to sources reported by WSJ. Deadline Hollywood had reported on Wednesday that the companies were in merger talks and that DWA CEO Jeffrey Katzenberg was looking for $35 per share from Hasbro, according to sources.
DreamWorks Animation closed Friday at $26.02, but fell 10% after-hours. Hasbro shares closed at $54.02 and trade at $55.50 after-hours on the report.
Zoetis Adopts 'Poison Pill' Following Ackman Stake Announcement
The Poison Pill:
Zoetis Inc. (NYSE: ZTS) announced Friday, that its Board of Directors has adopted a one-year shareholder rights plan and declared a dividend distribution of one preferred share purchase right (a "Right") for each outstanding share of the Company's common stock. The announcement comes two days after Bill Ackman's Pershing Square announced an 8.3% stake in Zoetis, along with a 0.9% stake from Sachem Head Capital.
There is talk that Ackman may seek a sale of Zoetis to Valeant Pharmaceuticals International, Inc. (NYSE: VRX), Valeant has been working with Ackman on a hostile takeover of Allergan Inc. (NYSE: AGN).
The Plan will automatically expire on November 16, 2015, unless the Rights are earlier redeemed, exchanged or terminated.
Zoetis closed Friday at $43.14, a loss of $0.10.
Actavis, Allergan Near Merger Deal
The Rumor:
Actavis PLC (NYSE: ACT) and Allergan, Inc. (NYSE: AGN) are near a merger deal, according to The Wall Street Journal. The reported purchase price for Allergan is $210 to $220, according to sources.
An announcement of a merger deal could come as early as Monday, reports persons familiar with the matter.
Actavis closed Friday at $243.77, a gain of $2.14 (0.89 percent), while Allergan shares gained $2.44 (1.24 percent) to close at $198.65.
View Comments and Join the Discussion!