How These 3 Data Center Providers Stand Apart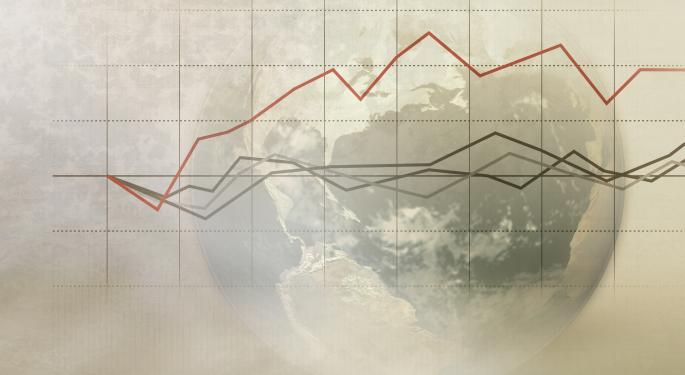 Data centers sit squarely at the intersection of technology and real estate, making this REIT sub-sector a bit of a strange bird -- one with its feet planted on the ground and its head in the clouds.
While not yet officially a member of the data center REIT club, $11.9 billion cap Equinix Inc (NASDAQ: EQIX) CFO Keith Taylor predicted at the RBC Capital Markets Technology Conference that he expects the company to receive formal IRS approval by the end of this year.
Another 52-Week High
Equinix shares have been on the upswing since announcing a $7.57 special REIT conversion driven dividend distribution and reporting solid Q3 results on October 29.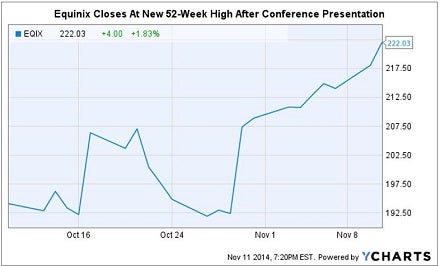 Related Link: Why The Triple Net Lease REIT Sector Remains Strong
Also presenting at the November 10-11 conference were smaller data center REIT peers $1 billion cap CorSite Realty Corp (NYSE: COR) and $1 billion cap CyrusOne Inc (NASDAQ: CONE).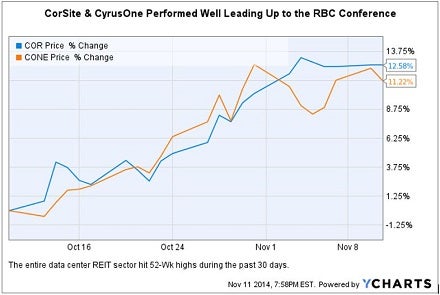 Key takeaways from all three conference presentations made it clear that each of these data center providers have fundamentally different business models and customer focus.
Key U.S. Network Locations
CorSite Realty is focused on network dense sites in the U.S. serving the retail co-location market. Approximately 80 percent of revenue is derived from network, cloud and enterprise verticals, with the balance from digital content, system integrator and managed service providers. CorSite is looking to leverage existing critical network locations -- including those leased in downtown Los Angeles and lower Manhattan -- by building larger scale-owned data centers connected by dark fiber in nearby locations.
CorSite hopes that its strategy of deploying multiple cloud providers at its U.S. sites will eventually lead to enterprise outsourcing. CoreSite CFO Jeff Finnin, however, felt that scenario will likely take a few years to play out.
Enterprise DNA
CyrusOne is primarily focused upon large enterprise customers, with 75 percent of revenues coming from 140 of the Fortune 1000. CEO Gary Wojtaszek said that CyrusOne can be flexible allowing enterprise customers to deploy from "one rack up to 20 to 30 MW" at some locations. The enterprise sales cycle can be challenging, typically taking anywhere from two to four years to sign a customer.
The largest vertical markets for CyrusOne are energy (oil and gas) and IT, each making up about 30 percent of revenues. Wojtaszek shared that the healthcare vertical could become a large market in the future due to the rapid growth in health care data during the next decade.
The Global Network
Equinix operates 101 International Business Exchange (IBX) data centers located in 15 countries in the Americas, Europe and Asia. It serves more than 4,700 customers and provide more than 135,000 business interconnects. The IBX sites feature more than 1,000 networks, 450 cloud providers, 600 IT providers, 800 financial firms and 500 digital media and content firms.
The combination of global scale and technological advancements appears to create a significant competitive moat for Equinix.
Related Link: All 5 Data Center REITs Hit 52-Week Highs After Equinix's Q3 Earnings Call
Equinix Google Announcement
Taylor mentioned the November 5 announcement that reported to provide direct access to Google Cloud Platform via the Equinix Cloud Exchange in 15 markets worldwide, including: Amsterdam, Atlanta, Chicago, Dallas, Frankfurt, Hong Kong, London, Los Angeles, New York, Paris, Seattle, Silicon Valley, Singapore, Tokyo and Washington, D.C.
International Update
Taylor shared trends on global cloud proliferation, specifically noting these deployments:
• North America - Silicon Valley and Washington, D.C.
• South America - Latin American growth was particularly strong in Brazil.
• Asia was described as "a hot-bed of opportunity," singling out Tokyo and Singapore.
• Europe - London and Amsterdam lead the way, with Germany "turning around," and France beginning to see a small step-up.
The Big Picture
Equinix appears to be operating at a much higher technological level and at a much larger scale in many respects than the rest of the data center REIT sector. This could be due in no small part to having evolved as a technology company that primarily leased real estate assets from others. This allowed Equinix the leeway and flexibility to invest more than $7 billion since 1998 in technology and its network, rather than focus on land development and buildings.
Meanwhile, smaller peers CorSite and CyrusOne have found niches where they have prospered as well.
View Comments and Join the Discussion!
Posted-In: Gary Wojtaszek Jeff Finnin Keith Taylor RBC Capital MarketsREIT Events Tech Real Estate Best of Benzinga