Benzinga's M&A Chatter for Monday November 10, 2014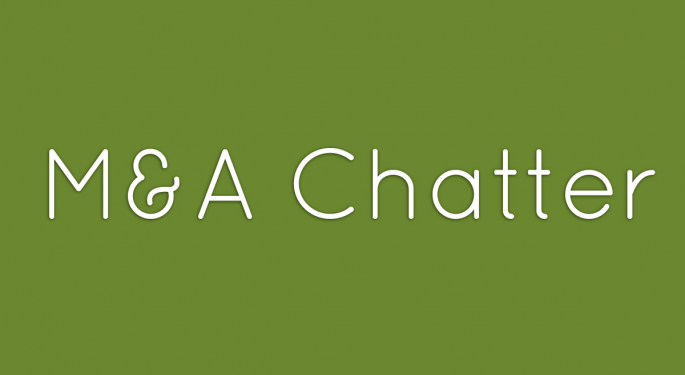 The following are the M&A deals, rumors and chatter circulating on Wall Street for Monday November 10, 2014:
Heartland Acquires XPIENT Solutions
The Deal:
Heartland Payment Systems, Inc. (NYSE: HPY) has acquired food service industry enterprise-level point of sale software provider, XPIENT Solutions. Terms were not disclosed.
Heartland Payment Systems closed Monday at $53.07, a gain of more than 1%.
Arthur J. Gallagher & Co. Acquires SGB-NIA Insurance Brokers
The Deal:
Arthur J. Gallagher & Co. (NYSE: AJG) today announced the acquisition of SGB-NIA Insurance Brokers headquartered in Woodland Hills, California. Terms of the deal were not disclosed.
Arthur J. Gallagher closed Monday at $48.26, a gain of $0.16.
Mitel Raises Offer to Acquire ShoreTel to $8.50/Share in Cash, Stock
The Offer:
Mitel Networks Corporation (NASDAQ: MITL) has increased its proposal to acquire all outstanding shares of ShoreTel, Inc. (NASDAQ: SHOR) common stock to $8.50 per share in cash and stock, for a total equity value of approximately $574 million. Under this agreement, ShoreTel shareholders would receive $8.10 per share in cash and $.40 per share in Mitel common shares.
ShoreTel confirmed Monday, that it had received the revised, unsolicited proposal from Mitel. ShoreTel's Board of Directors will carefully review and evaluate the revised proposal to determine the course of action that it believes is in the best interest of the Company's stockholders.
ShoreTel shares closed Monday at $8.34, a gain of 1.71%.
View Comments and Join the Discussion!